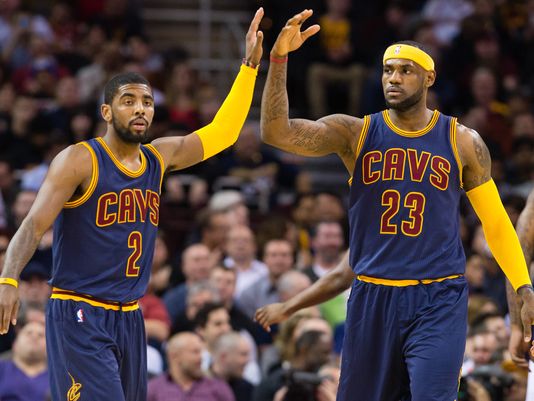 James and Irving could be slated as the next great duo, but in order to do so, they both need what each other has.
When LeBron James decided to return home and play for the Cleveland Cavaliers after winning two championships with the Miami Heat, once I was able to absorb my shock and consider ramifications, my first coherent thought went something like this, "Oh my goodness, LeBron and Kyrie".
Plays like these from the 2014 NBA All-Star Game flashed before my eyes:
Because this was the most exciting basketball element to LeBron James being a Cavalier again, right? He'd be playing alongside a fellow craftsman, playmaker, and one of the elite young guards in the league in Kyrie Irving.
Irving was the MVP of that 2014 All-Star Game with 31 points and 12 assists. It was the year prior (2013) when Kyrie dropped 32 points in the Rising Stars Challenge and won the Three-Point Contest. Who was Irving's biggest cheerleader that weekend? Then member of the Miami Heat, LeBron James.
(LeBron talking about Kyrie during 2013 All-Star Weekend, via Joseph Goodman of the Miami Herald)
"I watch Kyrie a lot. … It's always great to play against those guys, but when you get an opportunity to play with them it's even better."

"He's gonna be unbelievable," James said of Irving on Sunday. "He's already unbelievable in this league, first of all. What he's doing right now, and what he's going to do in the future, it's going to be crazy.

"With his weekend, he had a great game Friday night, came in here and won the three-point competition and had a great game tonight. … He's one of the best players that we have, and it's awesome to have him here. He belongs here."
As you might remember, this became just a piece of the ongoing skeptics' pile of irrefutable evidence that LeBron would indeed one day return to the Cavaliers, as if it were prophecy. LeBron chose to leave Miami, but what he also chose to do was leave Dwyane Wade, who along with LeBron became arguably one of the most illustrious duos we've ever seen.
In that sense, Kyrie Irving was an absolute incentive for LeBron to go home, as was the desire to upgrade his past recruitment efforts and insist on trading for Kevin Love. LeBron acquired a new "Big 3", post-Miami, of which he'd be the undisputed ringleader. But even before Love experienced his transitional struggles, which Chris Bosh foretold earlier this season, it wasn't difficult to assume that this would be the LeBron and Kyrie show, much like we saw transpire with LeBron and Wade.
One of the comments LeBron made prior to the season was that this would be Kyrie's show. A point of emphasis when analyzing the new-look Cavaliers before they took the floor was ball control. LeBron is the consummate point forward and is known for pushing and dictating the basketball himself while Irving is positioned as Cleveland's star point guard. Irving is a talented shooter but much more than just a floor spacer, he's an activator of the ball. He's a scorer first, and scorers need the basketball. In spite of those dynamics, LeBron and Kyrie have learned to flourish in their roles both individually and as a duo, despite having their expected rough patch to start out. They're having needed impacts on each other.
Here's an indicator of how LeBron has changed life for Kyrie — LeBron has dished 74 assists to Kyrie this season, which is more than Kyrie's highest assists from teammates in the last two seasons combined. In 2013-14 it was Anderson Varejao with 39 assists to Kyrie, and in 2012-13 it was Tristan Thompson with 30 (via NBA stats). Needless to say, that's what can change when a player like LeBron James comes to your team. Along that same notion, Irving's percentage of field goals made outside of 24 feet that are assisted by a teammate this season is 61.2%. Last season that number was 45%, which could simply indicate that Irving is shooting better, but could also suggest that he's getting better shots as a result of having better passing teammates, like his new running mate LeBron James.
For LeBron, the 30-year-old pinnacle of this NBA era has the opportunity to directly influence and mold one of the great young talents. Kyrie's career-high 57-point outing against the Spurs this season (referenced by LeBron as the best performance he's ever seen) was just a subliminal indicator, because the real effect these two are having on each other can't necessarily be quantified on paper.
Irving recently referenced this first season with LeBron James as the one of the greatest experiences of his life. That's not only because of the opportunity to play with the best player in the game, but also because of what LeBron brought with him from Miami: championship credentials. LeBron learned how to win in Miami. Kyrie can learn how to win from LeBron. With those credentials also comes a tacit confidence and knowledge that has visibly rubbed off on Kyrie this season. As a result, LeBron has said Kyrie is turning into more of a leader.
Guys like Kyrie Irving not only make the game easier for LeBron on the floor, but can make it more fun. I believe that playing with a younger, dynamic presence such as Irving just naturally makes the game more exciting for LeBron. More than that, he can trustingly relieve himself of the offensive reigns and allow Irving to quarterback the action, and more significantly, he can strive for the gratification of helping mold a young star into something more.
There's enormous potential for this duo to take control of the league, and we're about to see them take on their first postseason together (and Irving's first postseason of his career). The Cleveland Cavaliers need both LeBron James and Kyrie Irving at their peak forms to win an NBA title this season. How they're able to ascend as a duo might be one of the Cavs' ultimate determining factors. Thus, in so many ways and in somewhat equal measure, LeBron will need Kyrie, and Kyrie will need LeBron.