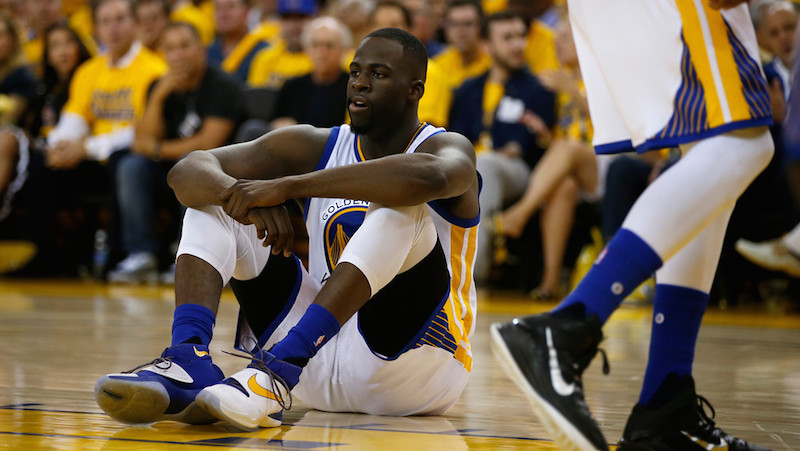 Draymond Green has been the most controversial figure in the 20016 playoffs, by far. From his constant trash talking to the kick heard 'round the world as it connected with Steven Adams' kiwis, Green has rubbed many the wrong way.
Green's actions during the playoffs have left him one flagrant foul away from being suspended for a game during the Finals. As one of the Golden State Warriors' best and most versatile players, it does not take much thought to realize what a huge blow it would be if they were missing him for even one game.
Draymond, however, does not seem to be too worried as he told reporters during shootaround on Thursday (via Sean Highkin of Pro Basketball Talk):
"No," he said when asked Thursday morning at shootaround whether it's on his mind to be more careful to avoid a suspension. "I'm aware of it, but…no."
I see Green's point. The edge that he constantly plays with is a good thing for him and his team. The chip on his shoulder that sees him able to name every single player drafted ahead of him in order translates to the basketball court and has led to him developing into one of the most impactful players in the league.
But at the same time, he has to be much smarter than he has been during the postseason. Playing with emotion is great, but he has to learn to control it better. He is of no use to his team if he is sitting out a game because he let his frustration get the best of him in the heat of the moment.
I'm sure Draymond Green will have the thought of a looming suspension in the back of his mind as he's playing during these Finals. The key is for him to be able to keep that edge while being smart. If he does that, the Warriors, favorites to win the title once again, will have a great opportunity.