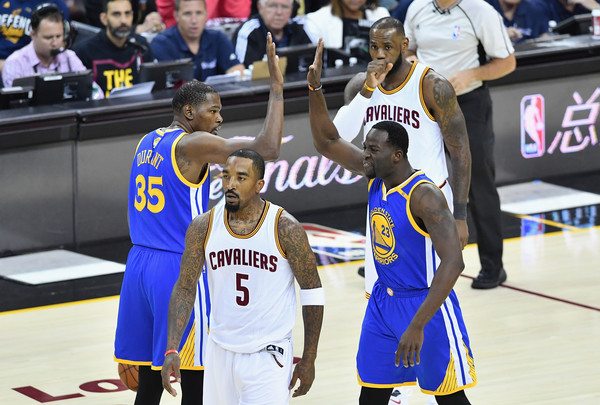 Last season, the Golden State Warriors infamously blew a 3-1 lead in the NBA Finals against the Cleveland Cavaliers. Zach Lowe of ESPN talked to Draymond Green and Warriors GM, Bob Meyers about the aftermath, and found out that Green called Kevin Durant right after the loss before leaving the parking lot.
Green hung up, stayed in the parking lot, and made another call — to Durant. "That was my very next call," Green said. Two weeks later, Durant signed a maximum contract that put him in a Golden State uniform for at least one season, with several more seasons likely to come.
Many have blamed Draymond Green — even he said he was to blame — as the reason the Cavaliers were able to come back last year. After being up 3-1, Green kicked LeBron James below the belt, leading to a one-game suspension. Even with losing a championship, Green is still able to see the bigger picture.
"If we win the championship, I'm like 99 percent sure we don't get him," Green said. "There are silver linings to everything."
Some wonder what this Warriors team has done to the NBA after Durant joined an already great team last summer. If they don't like it, they may be in for a crummy time over the next few seasons as Durant may be willing to sign for less than a maximum contract in order to keep the team together.
Draymond Green and his Golden State Warriors will look to win their second title in three years with a sweep over the Cavaliers on Friday night in Cleveland. With a win, the Warriors will be the first team to ever go 16-0 in the playoffs, and Kevin Durant will win his first NBA Championship.