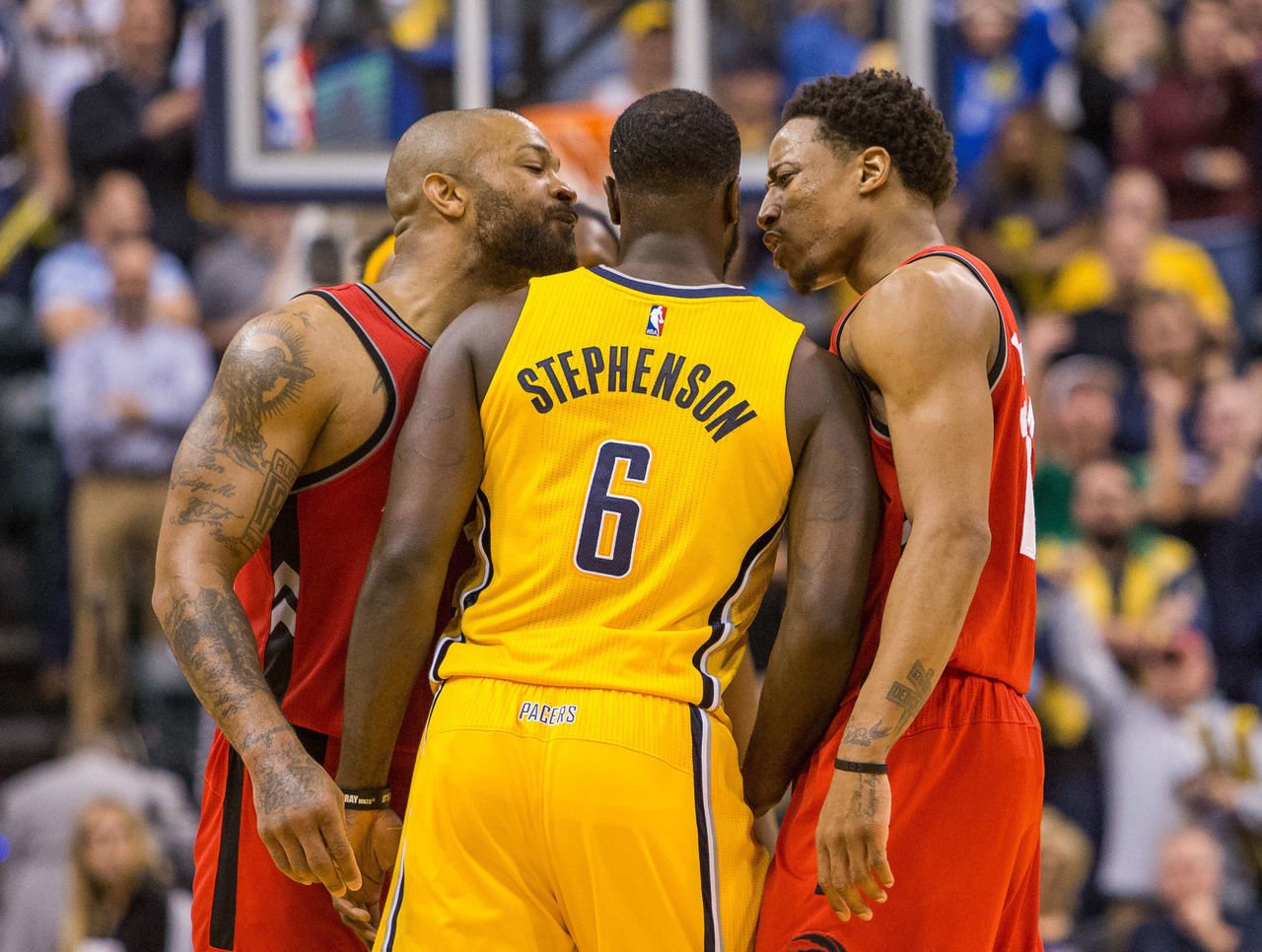 Lance Stephenson is back in Indiana and Pacers' Lance Stephenson is back.
The guard known for his erratic play and behavior along with his controversial antics on the court has not missed a beat. In just his second game with the Pacers (and his first in Indianapolis) since signing a three-year deal last week, Stephenson was back at it again with a prime Lance move.
With the shot clock turned off in the fourth quarter of a blowout win over the Toronto Pacers, Stephenson took an outlet pass and scored an uncontested breakaway layup. As could be expected, the Raptors did not really enjoy that:
Lance Stephenson scores the late layup in a double digit game….and the #Raptors didn't like it ? pic.twitter.com/4JfskU5N1G

— Def Pen Hoops (@DefPenHoops) April 5, 2017
Stephenson walked back to the other side as nearly every single resident of Toronto yelled at the shooting guard for violating one of basketball's few "unwritten" rules.
After the game, both DeMar DeRozan and P.J. Tucker had words for their opponent and they didn't exactly hold back:
Raptors' P.J. Tucker went off on Lance's late layup: "Tasteless. Classless. There's nowhere in the league for that."

— Scott Agness (@ScottAgness) April 5, 2017
More Tucker: "Nobody care about his reputation. I could care less. I don't even know who he is. He's happy he just got back in the league."

— Scott Agness (@ScottAgness) April 5, 2017
DeMar DeRozan: "That ain't the way you finish games. I think those guys know that. That dude, he has no class. He has no taste."

— Nate Taylor (@ByNateTaylor) April 5, 2017
Head coach Dwane Casey also got involved:
Casey on Lance Stephenson: "We know who he is, we know what he stands for."

— Doug Smith: Raptors (@SmithRaps) April 5, 2017
For his part, Stephenson actually apologized in front of the media after the game (although the Raptors players clearly didn't know about that):
Lance Stephenson apologizes for his last second layuppic.twitter.com/fN9Kpm2Vcc

— Def Pen Hoops (@DefPenHoops) April 5, 2017
It's tough to pick a side here. What Stephenson did is a universal sign of disrespect in the basketball world and his reputation definitely precedes him. On the other hand, the Raptors probably wouldn't have been so mad if they hadn't blown a 19-point lead and lost by 18.