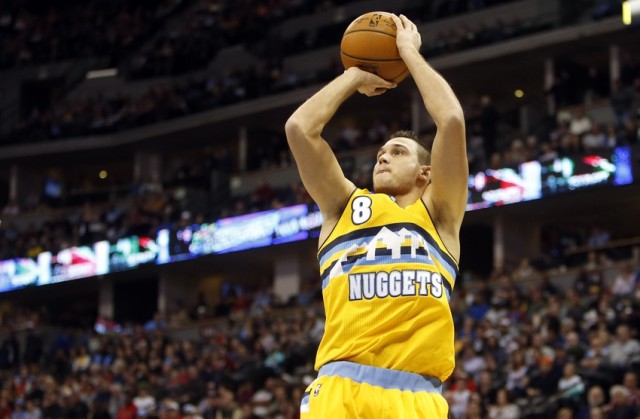 The Denver Nuggets have made their extension of Danilo Gallinari's contract official.
From the Denver Post's Christopher Dempsey:
The Nuggets formally announced a contract extension for forward Danilo Gallinari on Monday. Gallinari's extension has a total value of three years and $45 million. He will get a bump in pay that starts this season and raises his salary from $11.5 million to $14 million. Gallinari receives $31 million more over the following two seasons.
Gallinari's future in Denver appeared uncertain at times this summer. There were reports that he was on the trading block, and that teams such as the Grizzlies and Celtics were interested.
These reports got it wrong. Gallinari is staying in Denver for 3 years, $45 million(despite initial reports that the deal was worth 2 years, $34 million.
One thing is for sure; Gallinari is happy about the opportunity to continue playing for the Nuggets. Gallo was pleasantly surprised by the offer. Once again from Dempsey:
Danilo Gallinari was going about his business on a seasonal summer day when the phone rang.

On the other side of the line was Nuggets general manager Tim Connelly, who called with an offer he hadn't seen coming. He wanted to extend Gallinari's contract.

"He was saying they were trying to do something about it," Gallinari said Tuesday in a phone interview with The Denver Post. "And then after that my agent called and we started talking more about what the extension was about." …

"I was very fast in saying yes to this extension," Gallinari said. "I'm very happy to stay in Denver. This extension came because of the people in Denver, the fact that I've been in Denver for awhile now and the fact that I love the city."
Danilo Gallinari has shown his prowess when it comes to scoring thus far in his 6-year tenure, although his NBA career has been hampered by injuries.
For his career, the 26-year-old(27 in 4 days) forward has averaged 14.2 points, 3.7 rebounds, and 1.8 assists per game while shooting 41.6% from the field, 36.7% from 3-point range, and 85.1% from the free throw line.
Gallinari's got a smooth stroke, and is a deadly scorer when healthy. At 6'10", he also has excellent length for a 3. Gallinari showed his scoring ability during the latter half of this season. Over the final 22 games of the season, he averaged 19.1 points and 4.9 rebounds per game while shooting 45% from the field, 40% from long-range, and 90% from the charity stripe. Over that stretch, he had two 40+ point games, including a career high 47-point outing vs. the Mavs.
Gallinari is a fantastic scorer, and is coming off a season in which he looked unstoppable. The Nuggets made the right move in locking him down for 3 years.