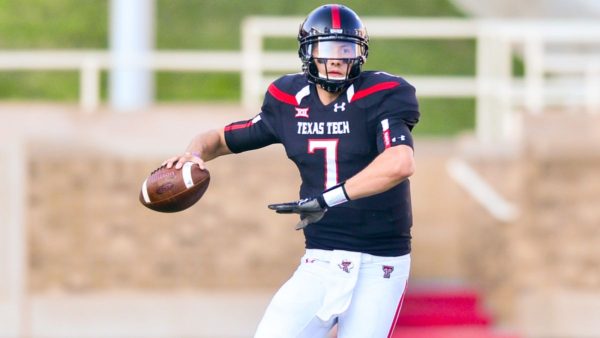 Davis Webb will be selected in the top 10 of the 2017 NFL Draft. Tell your friends you heard it here first! This is a story that will is receiving far less coverage than it should. Former Texas Tech quarterback Davis Webb has decided to transfer to the University of California to replace Jared Goff. Fox Sports was the first to report the news.
Webb first caught my eye during his freshman season at Texas Tech. His MVP during the Holiday Bowl solidified his shot of becoming an NFL quarterback in my estimation throwing for 403 yards and 4 touchdowns in a 37 – 24 win over 14th ranked Arizona. During his three years at Texas Tech, Webb threw 46 touchdowns and 22 interceptions. The reason Davis Webb did not play this past season was because coach Kliff Kingsbury preferred Patrick Mahomes running style (Kingsbury was Johnny Manziel's former offensive coordinator and is considered a great quarterback guru). His former head coach did however say great things about his former signal caller.
"He has a chance to be very special," Kingsbury said after Webb finished up his freshman season in 2013, adding that the big QB had first-round draft talent. "He has one of the quickest releases and strongest arms I've been around. Very smart, intellectual thinker. Processes things very quickly. Sees the field. Great at checking to the right place."
Many people may not realize this but I am expecting Webb to have that same meteoric rise Carson Wentz had this past season. A 6'5″ frame with a rocket arm will get him plenty of looks on draft day despite the questions of losing his job to a player who will likely get drafted in the 5th round (Patrick Mahomes). The Cal Bears games just went from unwatchable to pure entertainment from this news. Only time will tell if Webb will continue to develop his tools in order to be a first round pick in 2017.