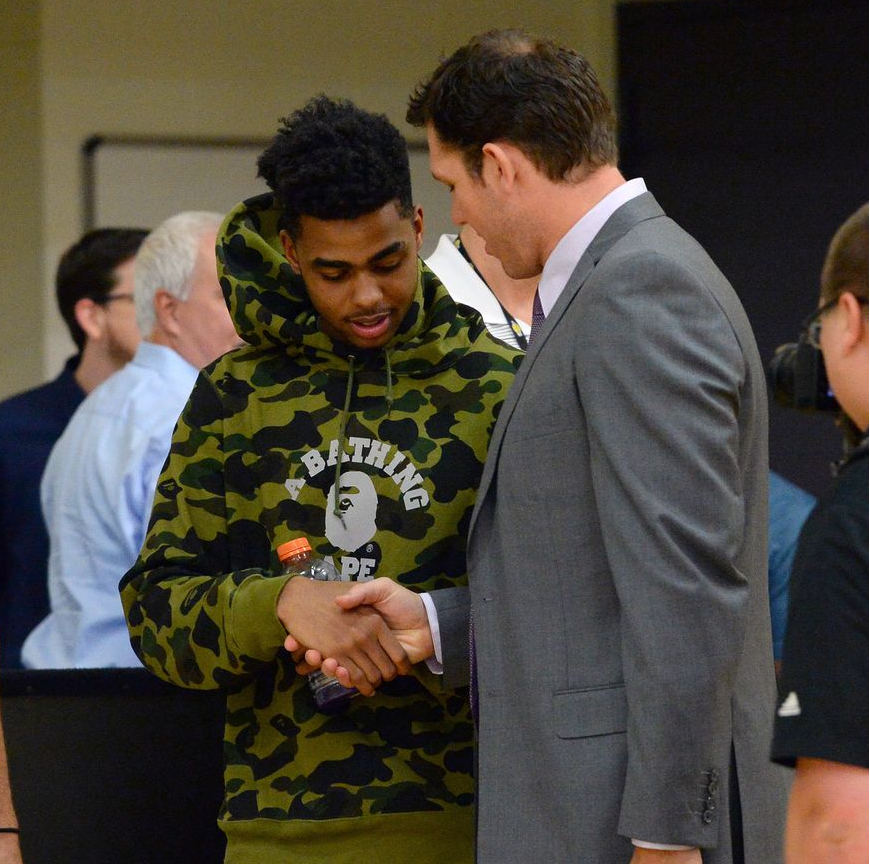 Los Angeles Lakers point guard D'Angelo Russell is a big fan of his new head coach, he tells Serena Winters of LakersNation:
Head coach Luke Walton stood by his young core of D'Angelo Russell, Brandon Ingram, Julius Randle, Jordan Clarkson, Ivica Zubac, Larry Nance, Jr. and Anthony Brown on Wednesday morning as the Los Angeles Lakers announced their partnership with UCLA Health for their new state of the art facility. Second-year point guard Russell even stood to his feet and gave a small standing ovation after Walton helped introduce and raise excitement for their new facility, which is expected to open in the summer of 2017.

It was that small, endearing and somewhat humorous gesture (as Walton only spoke for about 80 seconds) that hinted their relationship is clearly off to a positive start.

"He's one of the best people I know, as far as off the court," Russell said of his new head coach on Wednesday. "We communicate on and off the court as much as possible. I feel like I can call him anytime. He's not like a head coach that will sit back and just watch his other coaches and colleagues just train other players, he's always involved.

He'll get out there and play with you if he wants. It's just great to have a young coach like him in the building."
Lakers president Jeanie Buss, who knows Walton very well, also spoke about him:
"Luke (Walton) is somebody that I feel that I'm a mother-figure to, because Phil Jackson always felt like a father-figure to Luke, so I've known Luke most of his adult life," Buss told LakersNation.com. "I have a special relationship with Luke and I want to see him succeed."
While we haven't seen Walton in a head coaching role yet, most were impressed by his performance as assistant — and for a time, interim head coach — with the Golden State Warriors. Hearing those around him in the Lakers' organization praise him so highly already is an excellent sign going forward.