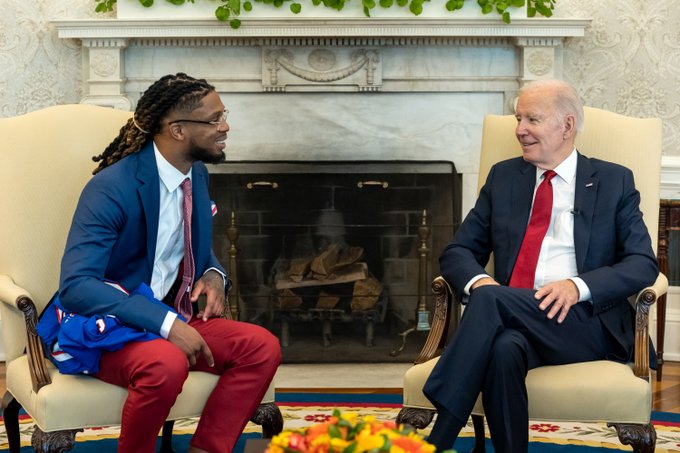 Buffalo Bills safety Damar Hamlin has been touring Washington D.C. this week and on Thursday met with President Joe Biden. Hamlin is still recovering from his collapse on the field and following the hospitalization that occurred late last year near the end of the 2022-23 NFL season. Since leaving the hospital, Hamlin has continued to be in the spotlight raising awareness for CPR training and even starting a charity to raise more awareness for CPR training. While his football future is incredibly unclear, Hamlin continues to give back after his life was saved on the field.
Damar Hamlin's courage, resilience, and spirit inspired the American people.

And what's more: he turned recovery into action – and our country is better for it.

It was my honor to have him and his family here today. pic.twitter.com/xju70wnAzl

— President Biden (@POTUS) March 30, 2023
President Biden released the tweet with the picture of both him and Hamlin in The White House. Damar Hamlin also posted a tweet saying the following: "It was a pleasure & an honor meeting you today. I know your time is precious and I wouldn't waste a second of it! Our conversations were valuable.. #UncleJoe." The Buffalo Bills safety is still recovering and undergoing tests but does hope to play in the NFL again in the future.
For now, he will continue to work off the field with the goal of one day getting back if he decides he wants to do that. Buffalo Bills Head Coach Sean McDermott said the following at the NFL's annual meeting in Phoenix, Arizona this week: "We're hopeful that he plays, but at the end of the day that's a decision that he's going to make, but we support him whether he decides to play or not."