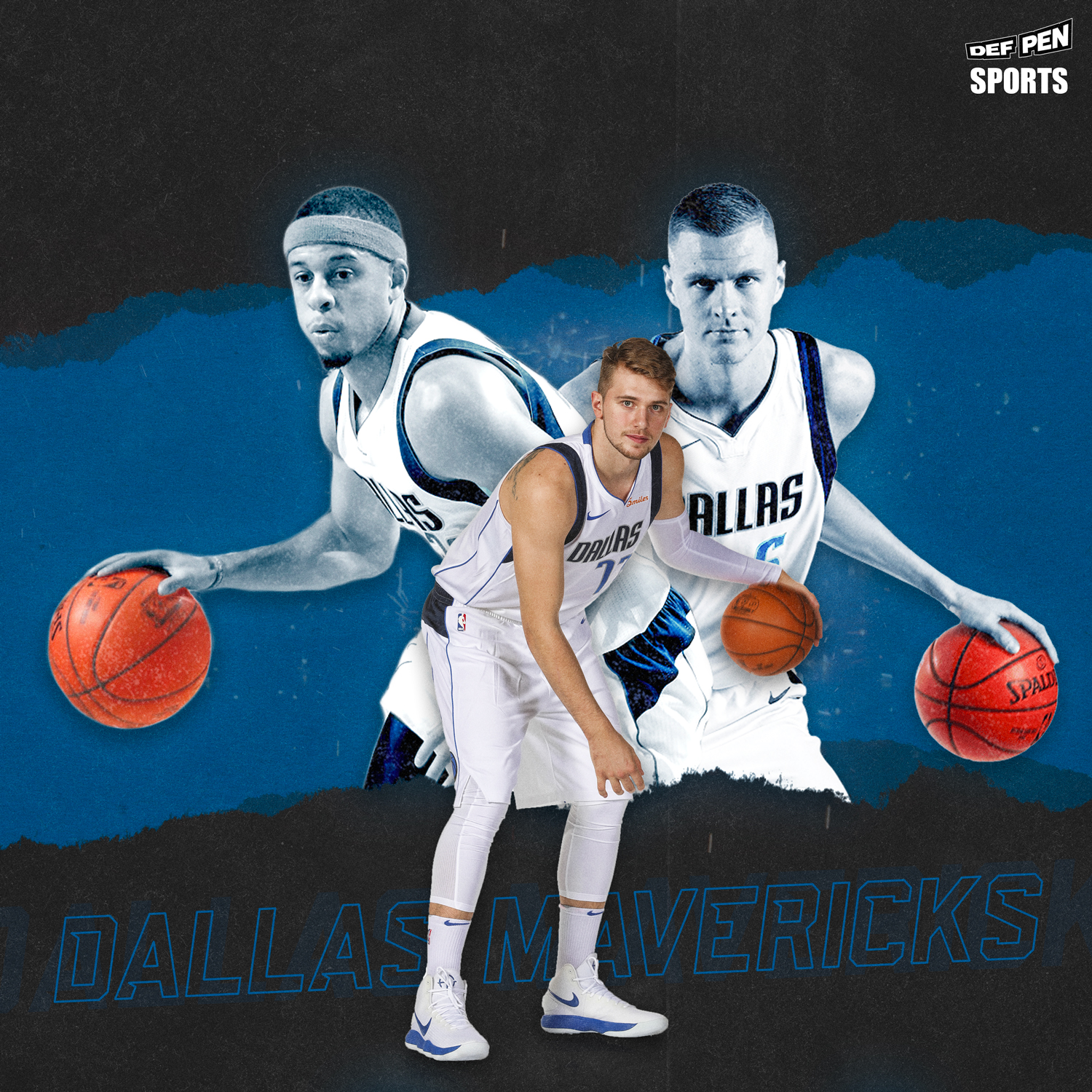 With the Dirk Nowitzki era coming to a close in Dallas, the onus will be on the young and exciting stars that the Mavericks possess to become the leaders of this team. All eyes will be on the tantalizing European duo of Luka Doncic & Kristaps Porzingis and for a good reason. Both players have shown signs of stardom and this season will be all about that 'next step'.
Can Luka Doncic continue his dominance as a rookie? Will we get the same Kristaps Porzingis that we saw as a Knick? Those will be just a couple of the key questions Mavericks fans will have to look at for the 2019-2020 NBA season. First, let's look at the arrival of Porzingis in the big D.
There is a question mark surrounding Porzingis' health, mainly because we haven't seen him play organized basketball in over a year. Porzingis suffered an ACL tear as a New York Knick and was traded by the franchise to the Mavericks right before the trade deadline last season. KP spent the tail-end of the season recovering while watching his fellow European guard Luka Doncic, grow into the Rookie of the Year. However, it didn't take long for us to see glimpses of Porzingis getting back to form:
Coupla Dallas-based Unicorns warming up in Oakland … pic.twitter.com/wxulRfWpED

— Marc Stein (@TheSteinLine) March 23, 2019
With Porzingis being out of the lineup for an entire season, fans may be quick to forget just how dominant the 24-year old, 7'3 Center was as a member of the New York Knicks. Just before he got hurt, KP was averaging career highs in points (22.7), blocks (2.4), field goal percentage (45%) and 3-point percentage (40%). He can space the floor, play defense and fits almost seamlessly with the style of play that the fiery Luka Doncic provides.
Big men and leg injuries haven't had the greatest track record in the NBA. Usually, the player you get back after a significant leg injury (like an ACL tear) is a significantly different player. However, sports medicine and technology has improved and the days of the ACL tear being the worst injury for a player have become history. For Mavericks fans, the first half of the season will be about Porzingis and what he can provide.
As mentioned above, Dirk Nowitzki is no longer a Dallas Maverick. This leaves a vast hole in the Mavericks organization in terms of leadership. Who is going to step up and become the voice of the players? The leader? The one that shows by example much like the future HOF-er Nowitzki?
All signs point towards Luka Doncic stepping into that role but it will be a tough task for the 20-year old. Mainly because, as a 20-year old, you haven't figured everything out for yourself either. There will be some growing pains, some mistakes on Doncic's part and Mavericks fans will have to be 'OK' with dealing with that.
The other option could be that both Doncic & Porzingis could assume the roles of team leaders. Co-Captains, if you will. Then, the NBA experience that Porzingis has, can be a helping hand to Doncic's eventual leadership. This duo is set to be entertaining on the court, now let's see if they can lead their team off the court as well.
A psoitive aspect of the Dallas Mavericks offseason was adding Delon Wright to their roster via a sign-and-trade with the Memphis Grizzlies, leading to a 3-year $29 million deal with the Mavs for Wright. Last season, Wright was traded by the NBA Champion Toronto Raptors to the Memphis Grizzlies in exchange for Spanish big-man Marc Gasol and thrived with Memphis.
He had career highs in points (12.2), assists (5.4), rebounds (5.4), and steals (1.6) in his time with the Grizzlies and now he has an opportunity to do even more as the starting point guard for the Mavericks. It's been a joy watching Delon Wright for his entire career in the NBA and the Mavericks truly have signed a special player who's ceiling has not been reached. He's crafty and reliable as a facilitator and knows how to run an offense.
The main concern here will be how this affects Luka Doncic. 47% of Doncic shots came off-the-dribble, meanwhile less than 20% of Doncic's shots came from catch and shoot. The latter is bound to spike with Doncic planning to play off-ball a lot more this season. There is some good news with that statistic. Doncic's effective field goal percentage is the highest (55%) among his teammates off of catch and shoot situations, so concerns of 'fit' with Wright & Doncic may be overblown.
Preidcting this teams' success is a bit of a minefield. Playoffs seem like a bit of a pipe dream for Mavericks fans this season due to the fact that the Western Conference is just too competitive. However, it's foolish to rule out the possibility that they could slip into the 7th or 8th seed when April comes around with all the talent they posses. But (and it's a big but) with the Lakers, Clippers, Nuggets, Blazers, Warriors, Rockets and Spurs all in the same conference, their chances take a hit.
The Mavericks finished tied for 13th in the West last season but that won't happen this year. They will be a feisty team that can steal wins from playoff contenders and maybe find themselves in a position to make the Playoffs. There is a path where they could win 44-50 games depending on how healthy Porzingis is and if Luka Doncic can take another jump towards stardom.
Nonetheless, the Mavericks bandwagon is getting full. If there is anytime to jump on, it would be this upcoming season,