London is a long way away from Dayton, Ohio and New York isn't much closer. After attending school in London, Curtiss Cook took his talents to the Big Apple where he appeared in a Broadway production of The Lion King. Putting one foot in front of the other, his career evolved into appearances in Shutter Island and House of Cards. In the second part of our interview with Cook, Ryan and Curtiss talk about how streaming platforms impact the acting world, his time with Steve Spielberg and the new season of The Chi.
After being in London, you went to New York and were a part of a lot of big productions on Broadway including The Lion King. What are the differences in preparing for a Broadway production as opposed to a television series?
They are different, but they are a lot alike. The biggest difference I would say is the time commitment. You have to work with the other cast members in preparation for the performance on stage. You get your script or whatever and then you do your homework, studying, background, character and development on your own. Finally, you get to a room and on day one, everyone has done that on their own. On day one, you get to the room and throw all of that into the pot. You get to figure out what works, what doesn't work, what we're going to keep, what we're not going to keep and so and so forth. You get to build all of that together for weeks and depending on the production, for four to six weeks you're just doing that. You're figuring out what you want to do and how you want to do it. During that time, you're getting to know people, feel the space out and understand more about your character.
For television and movies, you have more time of course because you get a meeting to figure out what the project is. Depending on the time period and subject matter, you get to do that time to research or study whatever you want. Then, you get on set. Nine times out of ten, you're only doing anywhere from an eighth of a page to two to three scenes per day for a large movie. For television, you get in there and you're doing eight scenes or nine scenes.
It's a quick process in television than theater, so I'm fortunate to have had the background of theater.
One of the things I really wanted to ask you about is your work on Netflix. You appeared in one of my favorite shows, House Of Cards. It hit right as Netflix was entering the original content space. What was your experience like playing Terry Womack in that show?
You're right, Ryan. House of Cards was the first series on Netflix and I think Orange Is The New Black was the second one. House of Cards was the one that started it all as far as "regular television" Netflix.
House of Cards was a great learning ground for me. It was a great platform to see folks who are in the business on a constant basis. I'd done movies with Oscar winners, but I hadn't done television with them so I hadn't been proximity with that caliber of an actor on a constant basis. I learned a lot of the business in there. I learned about work ethic at House of Cards.
What was unfortunate for me was that I didn't understand initially how important this character's presence was. His presence was bigger than my time on the screen if that makes any sense. He was one of the only Black congressmen that we see throughout the series. There were others who popped in, but he was the only major recurring one. There's a weight and importance that comes with that, that I didn't recognize until we started getting to the latter end of it and my participation was changing anyway. I wish that I had seen that earlier. What would that have done? I don't know. I don't know how I would've changed anything or pushed anything, but I know that if I had understood that earlier that something would have changed. I would've pushed the work in a different way.
"When I walked into Chicago and on that set, I felt like I was back in Dayton."
Over time, you've got to be a part of Luke Cage, Narcos and a bunch of different Netflix series. How has the explosion of streaming platforms changed the business side of your work as an actor?
The easiest answer is that there are just more opportunities. At one point, cable came along and there were just a lot more things. On top of that, you add all of the streaming platforms. In some aspects, that could add more stress to an actor. You'll be like, "Why ain't I working? There are 29,000 television shows and I can't get on one of them." On the other side, when you are working, it is really cool. You can go from this show to this show to that show. The beauty of streaming is how a lot of them shoot, you're able to do other projects. You're able to go to other network shows and work them because a lot of times they tend to shoot in blocks. You can get in, do what you need to do and that's done. You're basically done with that season. I would just say that the opportunity level has grown and then I think the quality of TV went up once House of Cards and all of that stuff came out. It was as if these shows were movies almost.
Right now, you're preparing for the latest season of The Chi. One of the things I like about The Chi is the window it provides into the Midwest. I'm originally from New Jersey, so a lot of the TV shows I grew up were set either on the east coast, in cities like Baltimore, New York, Atlanta and Miami or in California. There wasn't a lot of representation of life in the Midwest. As someone who is from Ohio, what does it mean to you to represent the Midwest in this way? Do you think The Chi has an impact on how the Midwest is represented on television?
The impact? I'm sure it does, but what that is and how that happens takes on a life of its own. What I will say that is Lena Waithe, FOX 21 and Showtime have done a good job of focusing on the south side of Chicago and not make it just gratuitous, a flash in the pan or just about the violence. They've really delved into these individual lives.
When I walked into Chicago and on that set, I felt like I was back in Dayton. Before I had even gotten into the show, I felt like a lot of those characters were my aunties and my cousins. Sometimes when I would watch it, it felt so real that it didn't even feel like a television show.
Everything is through a particular lens. People have things they want to say and how they want to say it, but the aspect of seeing these young Black boys grow up right in front of your eyes, this single mother deal with her son who is now turning into a man and this popular businessman comes in to have this fatherly figure feeling towards this boys is valuable. It's evidence that not everything is black and white. Most things live in that gray area.
In the same way, I feel that The Chi has the opportunity to grow over time because of what you said about the stories relating to people's everyday lives. One character that I can relate to my own community is Jada, played by Yolanda Ross. I'm really interested to see how her character develops over the next season. Outside of Douda, what character are you most interested in seeing develop over the next season?
I'm a fan of the show, so I'm excited. Plus, I've read all of the scripts, so I know what happens and I know who developed and what direction they're going to. I think it's going to be really cool just to watch everyone deal with their individual issues. There's a mystery that's happening this year, which is going to be very exciting for fans to watch. Douda going into politics is something that will have people going what the hell?
There's a reason for that and there's a reason why people are who they are. There's a reason for what they want to be and who they aspire to be. Hopefully, we get to see a little more insight into his journey to get to that place. You may not end up saying that you love him. You may hate him more, but at least you'll be to say that you get it and understand it. It's always intriguing to watch these children grow up in real life and on television. From season to season three,  you're watching these boys. You hear their voices getting deeper and they're getting a little taller. That's always exciting to watch as well.
Outside of The Chi, you're taking part in The West Side Story, which is being brought to theaters in December. God willing, if everything clears up we'll be able to see it in theaters. Given your theater background, what was it like to bring this production to the big screen?
Amazing! I had done musical theater all the way through junior high and high school. Musical theater is my first love. I was fortunate enough to be able to work with Arthur Laurents before he passed. He was the writer of the original West Side Story.
Growing up, I used to watch the Nicholas Brother back in the day. Of course, I love The Wiz to this day. It used to come on every Thanksgiving and Christmas. To be a part of a movie musical that's been around for almost seventy years is amazing.
On top of that, we're adding to the musical because initially, they didn't have any Black people walking around. Now, we all know there were a lot of Black people walking around New York City in the late 1940s and early 1950s. How did they not bump into any of them? I don't know.
It's kind of cool that Steven Spielberg and Tony Kushner said, "What are we doing? We have to show the community in the area how it really was." To have it be me that's a part of it? It's exciting. I'm over the moon about it.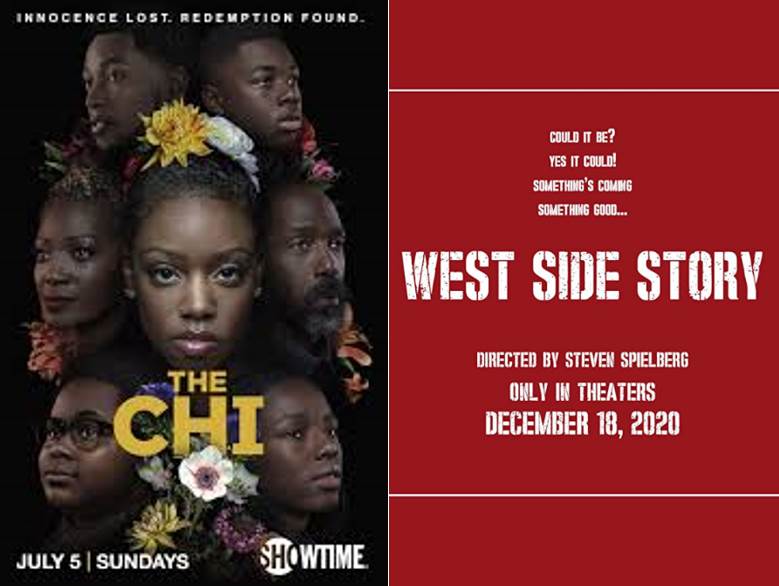 You mentioned Steve Spielberg. We've all seen his work for decades, but this is one of the first times he's helped bring a musical to the theater. What was it like to work with him on something that's also new to him?
It was more than great. He is one of those people that you've been hearing about your whole life, but you never had a reason to think you'd come across them in real life even if you're in the same business. Now, it's different, but growing up, I would have never expect to run into Oprah Winfrey, Barack Obama or any of those people. You hear their names, but you never expect to come in contact with them. It's people like Steven Spielberg, Martin Scorsese, etc. Madonna, Prince, Michael Jackson, etc. We all know them, but we don't know them. Then, you actually walk into the space to have a meeting and you're sitting across them. You say, "Wait a minute. Oh, hold on. Hold on. Oh, right. You are him and we are now talking about a project." He's been doing these movies that I've been talking about since high school and here I am talking to you about one of them. It's surreal destiny and fortune matching up. At first, you feel like that and then you get to the trailer to calm yourself down.
I was able to try certain things. I was given certain leeway. He would say, "No, no. I trust you Curtiss. Let's do that." It takes a minute to adjust to. Something similar happened to me on Shutter Island. Martin Scorsese turned and said, "Now, we're going to turn around on you, Curtiss. It's all on you." I started thinking, "Oh my god, where am I right now? What's going on? Martin Scorsese is going to turn around and they're shooting on me. Okay. Relax. Relax. Stop Sweating." It was amazing and it will continue to be amazing every time I step on set. I would like to think that I apply that level of respect, honor, devotion and work ethic to every director-producer, director and actor I'm in the space with. That's the only way we can bring our best selves to the project or whatever is. We all respect each other with that sort of reverence.
To bring everything full circle and back to your family, what is it like to tell your kids that you're going to work with Steve Spielberg or someone like that. You've been doing this at a high level for a long time. How do your kids react to seeing you on television and in movies?
Ryan? You know they don't care. They don't care. To this day, my son says he doesn't watch anything I'm in. I'm like, "What?" Then he says, "Nah, Dad. I don't want to jinx anything for you, Dad. I don't want anything bad to happen." I'm like, "Shut up boy. Watch this. We're going to watch this scene together." My younger daughter is an actress. She's in high school. She's been bitten by the bug. My oldest son, Curtiss Cook Jr., is also an actor. He's doing well. He understands it a little more, but like you said, I've been doing this for a long time so it just comes down to what the project is. Sometimes they'll like one project and tell me that they didn't like another project as much. They love me and I love them and I enjoy their honesty.
The last question I have is a more general question. Given everything that is going on in the world, what are you looking forward to most, both professionally and personally?
Professionally, I shot a pilot before the pandemic hit. We got that all finished and done at the end of February. It stars Lena Headey from Game of Thrones. I don't if you remember her, but she played Cersei from Game of Thrones. I play one of her beaus on the new show, but we're just waiting for a network to pick up.
Personally, I'm just trying to keep everybody as safe as I can. I have two grandchildren. They're two boys, two Black boys. They're coming up in this world in 2020. One is in Brooklyn and one is in Queens. One is three and one just had his first birthday. I haven't been able to see them in person, but we've been on Facetime and Duo. I just want to have that family dinner again. No outsiders, but just us sitting out on the back patio laughing and talking. I know that's coming soon. That's what I hope, think about, and wish for.
Catch Curtiss Cook each and every Sunday in The Chi on Showtime.