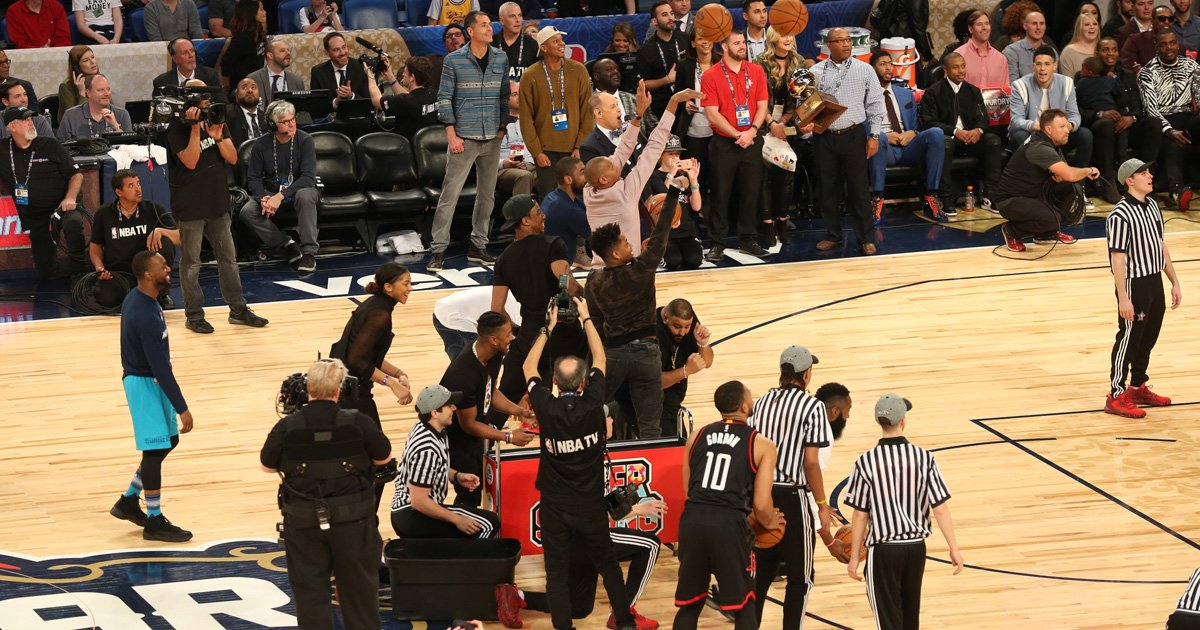 On December 15, 2016, the NBA lost a loved one in reporter Craig Sager. The zany reporter known for his unusual attire passed away from leukemia. This year, in-between the NBA Three-Point Contest and the Dunk Contest, the NBA honored Craig Sager just a few hours after it was announced he would be given the Curt Gowdy journalism award during the 2017 Basketball Hall of Fame induction ceremony.
Ernie Johnson came out to half-court and brought out some of the top NBA players in the league to shoot three-pointers in an attempt to raise money for the Sager Strong Foundation. Notable names included Anthony Anderson, James Harden, DeMar DeRozan, DJ Khaled, Candace Parker, Michael B. Jordan, Eric Gordon, Kyrie Irving, Kemba Walker, and Reggie Miller.
For every three the contestants made, $10,000 was donated to the Sager Strong Foundation. They had sixty seconds to rotate through the line shooting threes. In total, the group helped raise $130,000.
Next, Johnson brought out Stephen Curry to try and hit a half-court shot in order to bring the total up to $500,000. Curry said he needed three tries, but failed on all three attempts. They then gave him six more tries, and he was still unable to convert.
Since Curry wasn't able to hit his nine attempts from half court, they brought out Shaquille O'Neal and one of Craig Sager's son. Shaq lifted Sager's son up to the hoop so he was able to put it in with ease, and they awarded the foundation with $500,000. Just another amazing moment in the NBA.
ICYMI: the #SagerStrong Shootout in full #NBAAllStar pic.twitter.com/6fbhmgWmam

— TurnerSportsPR (@TurnerSportsPR) February 19, 2017