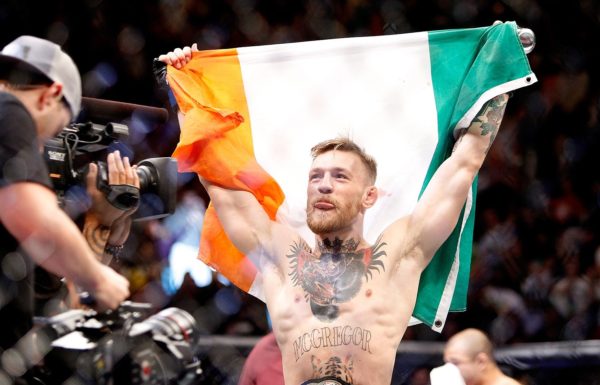 Today in Manchester, England, "The Notorious" Conor McGregor sat down for an interview with Ariel Helwani, of MMAFighting.com, and made one thing very clear.
"I've got my eyes on one thing and that's Floyd Mayweather," McGregor told Helwani.
There it is, folks. From the mouth of the man, himself. There's nothing else that the UFC's biggest star wants in his next bout. McGregor (21-3) last fought at UFC 205 in November, where he knocked out Eddie Alvarez to claim the UFC lightweight title and declared after that fight that he would take some time off for the birth of his first child, expected in May.
This is a fantasy fight that has been discussed for months among fight fans, but many did not expect it to be a real possibility. But in recent weeks, it is appearing to become more, and more, realistic. Several weeks ago, UFC president Dana White made a verbal offer to Mayweather for the fight on "The Herd with Colin Cowherd". And now, McGregor, who has a professional boxing license in California, is primed to compete in boxing ASAP.
"I believe the next time I step into a combat arena will be through the ropes wearing 10-ounce or eight-ounce gloves," McGregor said.
Mayweather has also come out in support of the fight. "Money" has said publicly that this is the only fight that could lure him out of retirement, and says that he wants to do it for the fans.
"Let's give the fans what they want to see." @FloydMayweather on a potential fight against @TheNotoriousMMA #FramptonSantaCruz2 #Boxing pic.twitter.com/wkkZ2lZhP1

— SHOWTIME Boxing (@ShowtimeBoxing) January 29, 2017
This fight is one that would ultimately settle the argument of boxing versus MMA. Mayweather (49-0, 26 KO's) is the best fighters of his generation, and one of the best ever, and would, seemingly have an easy time with McGregor, who has never boxed professionally. But the fight game is a crazy one and this bout would generate a large amount of money.
And isn't that what all parties in this situation are about?