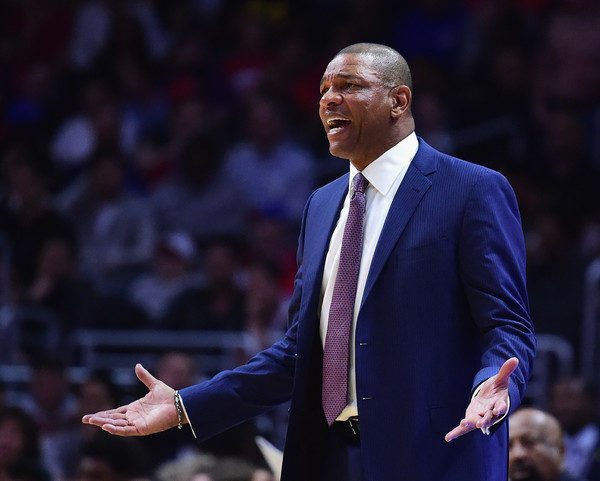 The NBA has fined the Los Angeles Clippers for $50,000 due to a violation of the league's anti-tampering rules. The violation came due to Clippers head coach Doc Rivers' comments on Toronto Raptors star Kawhi Leonard during a recent NBA Finals preview special on ESPN.
The Los Angeles Clippers have been fined $50,000 by NBA for violating the league's anti-tampering rule when Doc Rivers publicly commented on Kawhi Leonard.

— Shams Charania (@ShamsCharania) May 31, 2019
On the show, Stephen A. Smith asked if Kawhi wins the championship with the Raptors would that make him the greatest player in the NBA right now. After Magic Johnson gave his take Rivers answered saying that Kawhi is closest he's seen to Michael Jordan and went on to say some of the great attributes that Kawhi has as a player.
The NBA announced today that it has fined the LA Clippers $50,000 for violating the league's anti-tampering rule.

The fine is in response to comments made by Doc Rivers on Kawhi Leonard.pic.twitter.com/2dbp0IIZJ9

— SportsCenter (@SportsCenter) May 31, 2019
Adam Silver was asked about the fine and he said that Rivers crossed a line when he commented on Leonard and a decision had to be made by the league office.
NBA commissioner Adam Silver on Doc Rivers tampering fine: "he unfortunately crossed a bright line" pic.twitter.com/VHpuUVuhM1

— Def Pen Hoops (@DefPenHoops) May 31, 2019
Leonard is going to be a free agent in the upcoming offseason and when he asked a trade from the San Antonio Spurs he expressed his desire to go and play in Los Angeles, in particular with the Clippers according to some reports. The Clippers have looked like a serious contender to sign him as a free agent this summer.