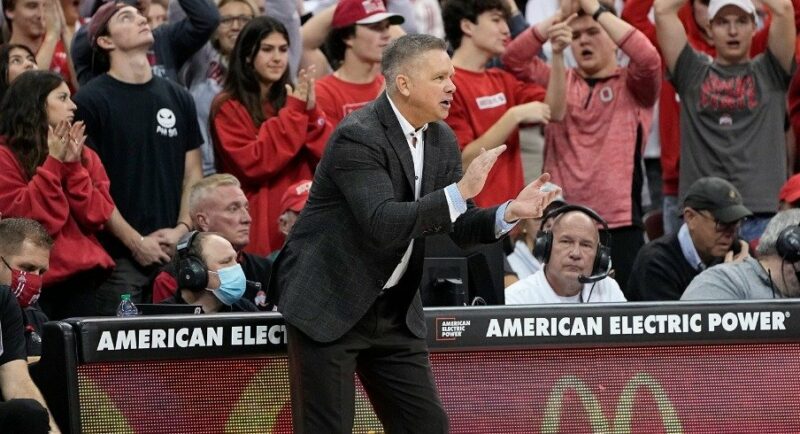 Head Coach Chris Holtmann and the Ohio State Buckeyes have agreed on a three-year contract extension that will keep him under contract through the 2027-28 season. He will reportedly make $3.5 million per year under the terms of his contract extension. The program has seen continued success under the tenure of Holtmann and that success has been rewarded with this long-term deal. Ohio State continues to attempt to establish itself as a Big Ten basketball powerhouse.
Ohio State coach Chris Holtmann has received a three-year extension through the the 2027-28 season and a raise to $3.5 million per year, per the school.

— Jeff Borzello (@jeffborzello) May 18, 2022
In five seasons with the Ohio State Buckeyes, Chris Holtmann led the program to an overall record of 107-56 and a Big Ten record of 58-40. He also made the NCAA Tournament four times in five seasons with the lone season being 2020 when the NCAA Tournament was canceled. The program was expected to make the tournament that season as well. During his tenure as Head Coach, Ohio State has not made it past the second round of the NCAA Tournament. He has been successful enough to warrant the contract extension by Ohio State.
Four coaches that have at least 20 games for nine straight years:

Bill Self
Mark Few
Dana Altman
Chris Holtmann

— Jeff Goodman (@GoodmanHoops) March 23, 2022
Chris Holtmann has been successful as a Head Coach before and during his tenure with the Ohio State Buckeyes. This contract extension secures his future and from the perspective of the program, hopefully, ensures he stays with the program long term. Holtmann and the Buckeyes want to eventually win a National Championship and thus far they have fallen short. Good recruiting and good coaching could get them there one day in the future.