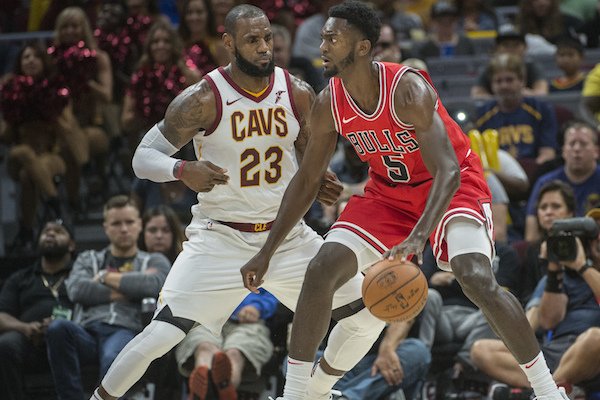 The Chicago Bulls, the players at least, reportedly have interest in getting in the middle of the situation between Bobby Portis and Nikola Mirotic. More specifically, they have no interest in Mirotic's "it's him or me" routine.
According to Joe Cowley of the Chicago-Sun Times, Portis has the support of the players.
Cowley makes it clear that the players haven't supported Portis' in his attack of another teammate; they feel as Portis has proven himself to be a better teammate than Mirotic.
Cowley reports that Mirotic's attitude coming into training camp didn't mesh well with the rest of the team. Nick Friedell, while appearing as a guest on the "The Hoop Collective" podcast gave insight into the situation saying that there is sympathy for Mirotic, but he isn't as popular as Portis amongst teammates.
Following from the Chicago-Suns Times,
To a man, the players agree that Portis' actions were wrong. No Bull disputes that. But there's a lingering sense that Mirotic came into training camp with a feeling of entitlement, which did not sit well with many of his younger teammates.
It was reported that Mirotic had dodged Portis' attempts to mend the relationship. Apparently, according to Cowley, the players think Mirotic's behavior is a detriment to the team environment,
…

That's why players say it's obvious that Mirotic, 26, has to go. The feeling is Portis has done his part to repair things, and he's seen as someone who has put in all the work this summer and is a better teammate. Plus, he's just more liked by his teammates. Choosing Mirotic over Portis would disrupt a chemistry that has been building since the front office made the decision to rebuild by trading Jimmy Butler in June.
Portis was suspended eight games by the NBA in consequence to his role in the altercation. He has since returned to the action on the court while Mirotic is still in the league's concussion protocol.
The second-year seems to be the more liked individual in the locker room, and that goes a long way regarding chemistry. If Mirotic is steadfast in his request that the team has to trade either him or Portis, the outcome may be more straightforward than previously thought.