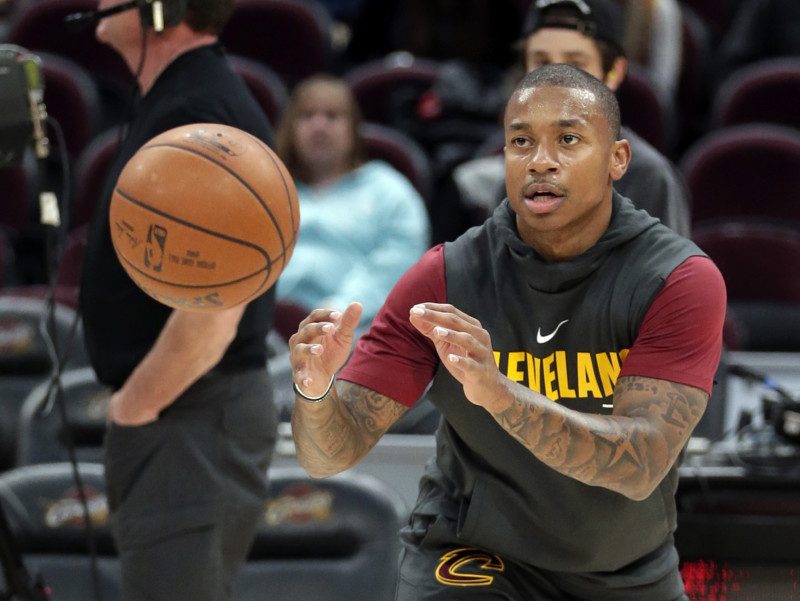 In a stunning move, the Cleveland Cavaliers are trading point guard Isaiah Thomas, forward Channing Frye and a first-round pick to the Los Angeles Lakers for guard Jordan Clarkson and forward Larry Nance Jr.
Following comes from Adrian Wojnarowski of ESPN and Kevin O'Connor of The Ringer.
Lakers sending Jordan Clarkson and Larry Nance to the Cavaliers, league source tells ESPN.

— Adrian Wojnarowski (@wojespn) February 8, 2018
Cleveland is sending Isaiah Thomas and Channing Frye to the Lakers for Clarkson and Nance, league source tells ESPN.

— Adrian Wojnarowski (@wojespn) February 8, 2018
Cavaliers also sending its 2018 first-round pick in deal to Lakers, league sources tell ESPN.

— Adrian Wojnarowski (@wojespn) February 8, 2018
I'm hearing it's Isaiah Thomas, Channing Frye, and the Cavs first to Lakers for Clarkson and Nance.

— Kevin O'Connor (@KevinOConnorNBA) February 8, 2018
The move appears to accomplish some goals for both sides. Cleveland adds young talent to their team without giving up too much. They also manage to rid themselves of some locker room problems, in particular, Isaiah Thomas. It appeared that he was one of the players some of the long-standing Cavs' had an issue with when he brought up Kevin Love's recent departure due to an illness. The Channing Frye presence in the locker room will absolutely be missed.
They also don't trade away the coveted Brooklyn Nets pick and can now decide on draft night if they want to keep whoever they select with that pick or trade him away for other assets. Of course, this mostly hinges on LeBron James.
The Lakers clear a long-term, big money contract off the books. Jordan Clarkson is a fine player and should find some success with Cavs as a bigger guard playing off-ball but he's not a piece the Lakers were going to use to help bring big names to Los Angeles.
Larry Nance had to be included if they wanted to move any of these longer contracts with money attached. Los Angeles drafted him with the 27th pick in 2015 and this draft pick from the Cavs will most likely be around that range so they could wind up selecting another player late in the first round who can bring something to the table.