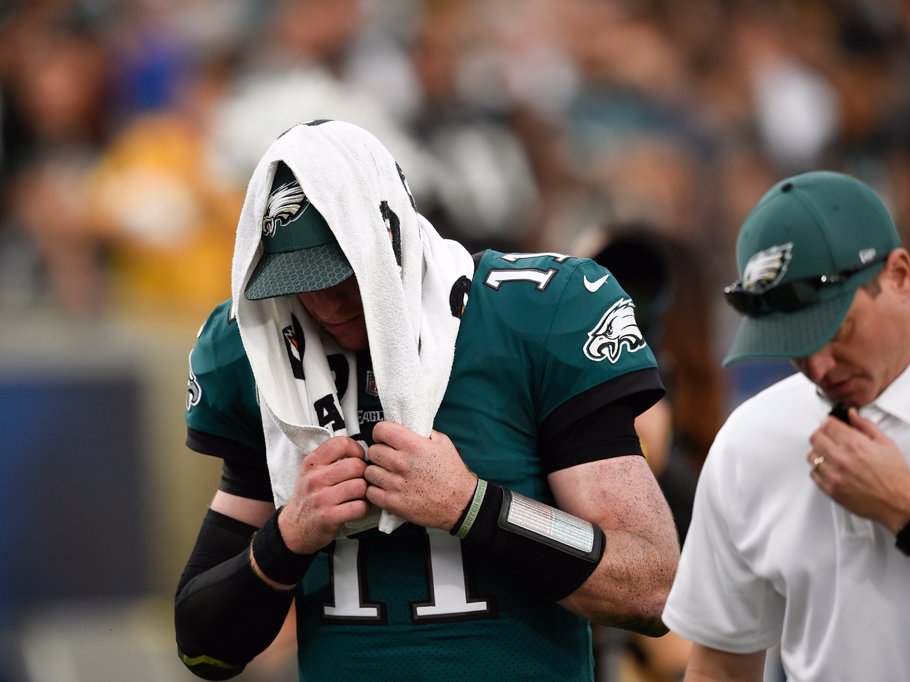 Doug Peterson has confirmed to the media that Philadelphia Eagles star QB Carson Wentz has torn his ACL and is done for the season. Adam Schefter reported this on Twitter
MRI showed that Eagles' QB and NFL MVP candidate Carson Wentz did tear his ACL. Wentz is our for season.

Nick Foles time.

— Adam Schefter (@AdamSchefter) December 11, 2017
This confirms the worst fears for the team as it was reported last night they believed his ACL was torn. This will bring an end to the MVP-caliber season the sophomore pivot was having with the team.
Carson seemed in high spirits as he tweeted this last night:
NFC East Champs! So proud of the resiliency of this team. Such a special group of men.

And I greatly appreciate all the prayers! I know my God is a powerful one with a perfect plan. Time to just lean in to him and trust whatever the circumstances! #Proverbs3:5-6

— Carson Wentz (@cj_wentz) December 11, 2017
Wentz went down in the third quarter when he ran for a touchdown. This was called back due to holding but Wentz remained in the game, he played 3 more plays and hit Alshon Jeffery with a pass for a TD to cap the drive.
The team then turned to Nick Foles who was able to lead a comeback for the Eagles to secure a 43-35 win over the hot Los Angeles Rams.   Foles spoke to the media after the game"Everyone is really excited about the win, but you have your starting quarterback go down, it's emotional, it's emotional for me. I work with him every day, so I'm dealing with that."
Wentz was having a stellar year throwing for 3,296 yards and 33 touchdowns with seven interceptions, taking the Eagles to an 11-2 start that put them in the race for the NFC's number one seed.
Foles is a capable back up as he threw for 27 touchdowns and 3 interceptions in his first stint with Philadelphia in 2013. He has performed well under those standards every season since, even though he looked sharp in his debut last night.
We will update with a timeline as it is announced.