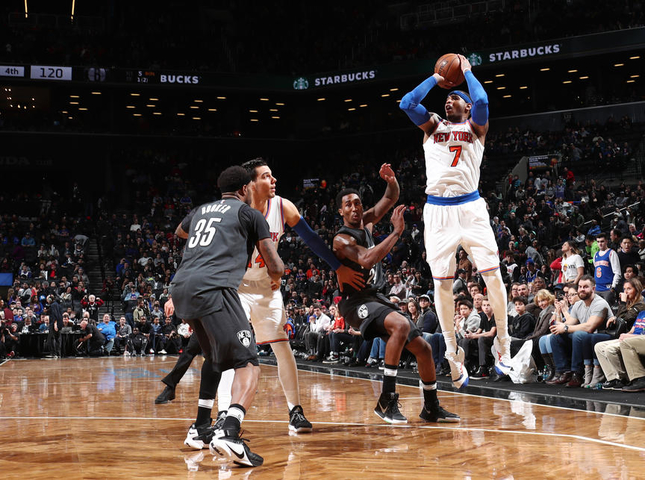 In Sunday's embarrassing 120-112 loss to the Brooklyn Nets, there was at least one bright spot for the New York Knicks; the play of Carmelo Anthony. Anthony scored a game-high 27 points and joined an exclusive club while doing so.
Anthony hit the 10,000-point milestone. Not for him; he achieved that accomplishment long ago. Melo scored his 10,000th points as a member of the New York Knicks. Anthony also scored over 10,000 points as a member of the Denver Nuggets (13,970 points, to be specific).
Anthony is just the third player in NBA history to score over 10,000 points with two teams. The other two players to do so? Kareem-Abdul Jabbar (with the Bucks and Lakers) and Elvin Hayes (with the Wizards and Rockets). That's some elite company.
Abdul-Jabbar ranks first all-time in Bucks history with 14,211 points, and third all-time in Lakers history with 24,176.
Hayes ranks first all-time in Wizards (called the Bullets when he played with them) history with 15,551 points, and fourth in Rockets history with 11,762.
Anthony is the third-highest-scoring Nugget ever after recording 13,970 points in Denver. He ranks seventh in Knicks history with 10,022 points.
Abdul-Jabbar scored more points than any other player over the course of his career with 38,387. Hayes ranks 10th on that list with 27,313 points. Anthony is 25th with 23,992 points.