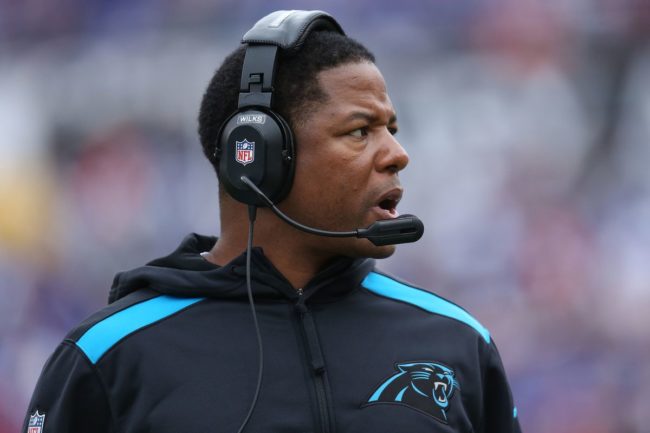 The Arizona Cardinals have named former Carolina Panthers defensive coordinator Steve Wilks as their new head coach. Ian Rapoport shared the news via Twitter.
Recently on vacation, a person walked up to #AZCardinals GM Steve Keim and introduced himself. On a beach in the Carolinas, Keim was blown away by this impressive dude. It was Panthers DC Steve Wilks… who Keim is expected to hire as his new head coach.

— Ian Rapoport (@RapSheet) January 22, 2018
The hiring of Wilks comes after former head coach Bruce Arians announced his retirement on January 1. The contract is reported to be for four years, with an option for a fifth year.
Official. It's a 4-year contract for Steve Wilks with an option for a 5th. https://t.co/8qbzeufwbN

— Ian Rapoport (@RapSheet) January 22, 2018
Wilks has been an assistant in the league since 2006, spending the previous six seasons with the Panthers. This hire teams up Wilks, who specializes in defensive backs, with one of the best defensive backs in the game in Patrick Peterson.
Both Peterson and Josh Norman, who previously worked with Wilks, chimed in on the hiring.
@P2 dude you think your game on a High level now? Your abt to go #Supersonic!SegaGenesis!??

— *Joshua R. Norman (@J_No24) January 22, 2018
I LOVE IT.

— Patrick Peterson /P2 (@P2) January 22, 2018
This seems to be a great hire for the Cardinals. Wilks is a defensive wizard, and the Cardinals have had one of the consistently best defenses in the league. If Wilks can get a decent quarterback to come to Arizona, then the Cardinals could potentially be set to make some noise. Kirk Cousins maybe? We will just have to wait and see.