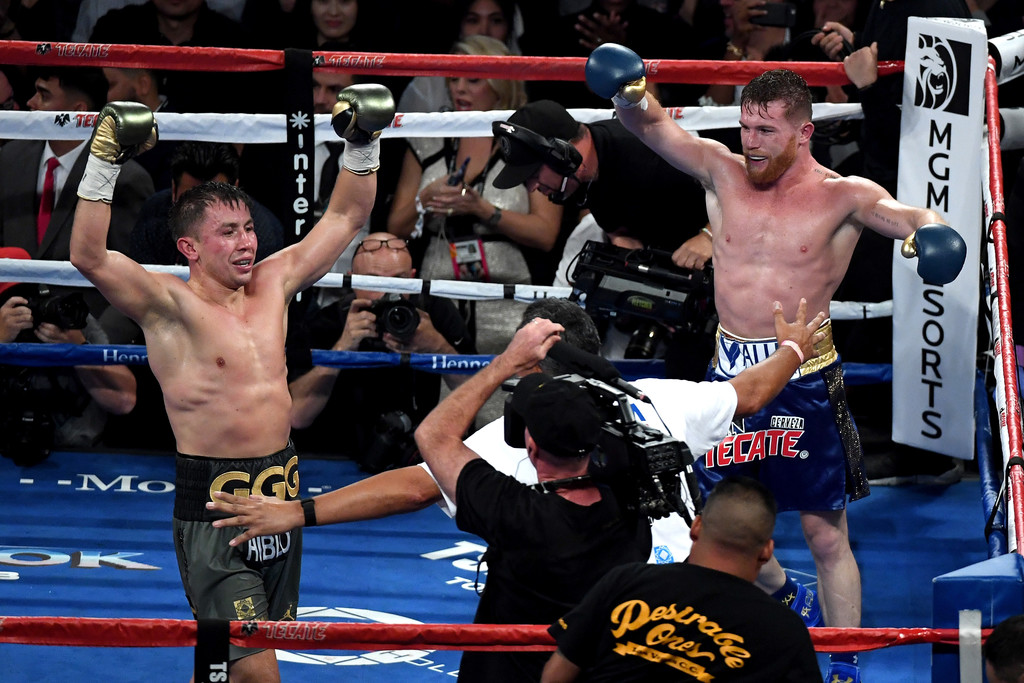 Saul 'Canelo' Alvarez and Gennady Golovkin aka GGG are set to officially have a rematch on May 5th, 2018 following their classic 2017 fight ending at a draw. Once again, Oscar De La Hoya, Golden Boy Promotions are capitalizing on a Cinco De Mayo boxing opportunity.
The middleweight championship fight this past September was supposed to be the first big fight in the post-Floyd Mayweather generation. It was the two best active middleweights going head-to-head, the Mexican knockout artist Alvarez against the undefeated fighter from Kazakhstan, GGG.
The bout was mired in controversy as it ended in a split draw before a sold-out crowd at T-Mobile Arena in Las Vegas. One judge scored it 115 to 113 in favor of Golovkin, a second judge scored it 114–114 and Judge Adalaide Byrd came under fire after she scored it 118 to 110 in heavy favor of Alvarez. Many believed that Golovkin won the later rounds of the fight after a strong start from Alvarez. Byrd only gave GGG the fourth and seventh rounds. Shortly after the fight, Byrd temporarily stood down. It was the 19th consecutive title defense for Golovkin.
While the questionable desicision still is a topic for many boxing fans, we all won't have to wait years and years to get a round two. HBO and Golden Boy Boxing officially announced the second fight will return this summer and 'this time, they won't leave it up to the judges…'
This time, they won't leave it up to the judges… #CaneloGGG2 IS OFFICIAL!! #May5 pic.twitter.com/WECEiw314u

— Golden Boy Boxing (@GoldenBoyBoxing) January 29, 2018
12 Rounds Weren't Enough. 5.5.18 #CaneloGGG2 pic.twitter.com/OuzNalG84f

— HBOboxing (@HBOboxing) January 29, 2018
The venue for the bout has not been announced yet but Las Vegas, as usual, is an early favorite to host.
It was reported that Alvarez was guaranteed $5 million and Golovkin had a $3 million guarantee for the first fight and both boxers are expected to make much more on a share of the pay-per-view revenue. We could see those amounts increase slightly for round two and if they do end up doing a third fight.
Canelo Alvarez, 27, is 49-1-2 on his career with 34 knockouts and he's currently the WBO light middleweight title holder and 'The Ring' middleweight champion. Gennady Golovkin, 35, is 37-0-1 with 33 knockouts and currently holds the IBF, IBO, WBA and WBC world middleweight titles.