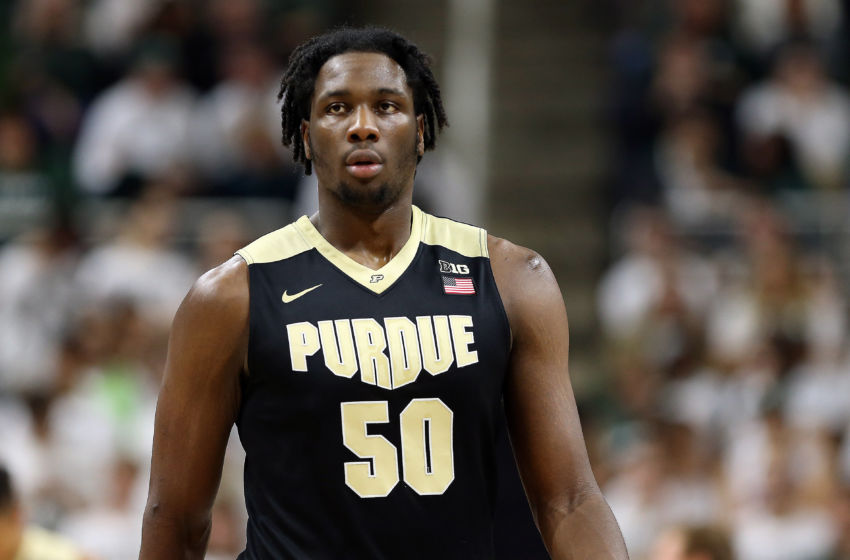 Purdue sophomore Caleb Swanigan will test the waters of the NBA Draft for the second year in a row by entering the Draft without hiring an agent:
#Purdue Caleb Swanigan has declared for the NBA Draft, but WILL NOT hire an agent.

Final decision must be made by May 24. pic.twitter.com/rbqYBxrGWs

— Purdue Basketball (@BoilerBall) April 5, 2017
As Purdue pointed out in their tweet, Swanigan still has plenty of time to hire an agent; doing so would mean that he cannot return to school next season.
Swanigan made the same decision last summer and wound up returning for a second season at Purdue. The 6-foot-9, 250-pound behemoth averaged 18.5 points and 12.5 rebounds per game while shooting 52.7 percent from the floor in his sophomore year.
Swanigan uses his size to dominate the opposition on the glass and pound the ball down low. That doesn't mean he can't operate from the perimeter, though; Swanigan shot 44.7 percent from three-point range on 2.4 tries per game last season.
Purdue was eliminated by Kansas in the Sweet 16 round of the NCAA tournament after defeating Vermont and Iowa State in the previous rounds. In his three tournament games, Swanigan averaged 18 points and 11 rebounds per game while shooting 46.3 percent from the field and 53.8 percent from deep.