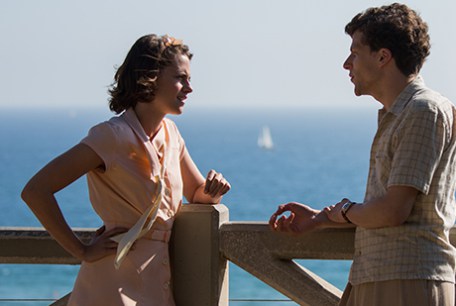 Woody Allen's latest comedy film, Cafe Society, has scored the opening spot for the 69th Cannes Festival, as reported by Deadline this morning. This feat will mark the record-breaking third time that Allen debuts Cannes with one of his films, following 2002's Hollywood Ending and Midnight In Paris in 2011.
The film is produced by Letty Aronson, Stephen Tenenbaum, and Edward Walson. As quoted by Variety:
"The film tells the story of a young man who arrives in Hollywood during the 1930s hoping to work in the film industry, falls in love, and finds himself swept up in the vibrant cafe society that defined the spirit of the age."
Cafe Society stars romantic leads Kristen Stewart and Jesse Eisenberg. The rest of the cast includes Steve Carell, Parker Posey, Blake Lively, Corey Stoll, Jeannie Berlin, and Ken Stott. Stewart and Eisenberg last paired up for the critically shamed American Ultra in 2015. Although the film itself was rebuked, the lead duo was praised as being the only light of the movie.
Cannes will be running from May 11 to May 22, with George Miller as competition jury president. The rest of the Official Selection titles will be announced on April 14.