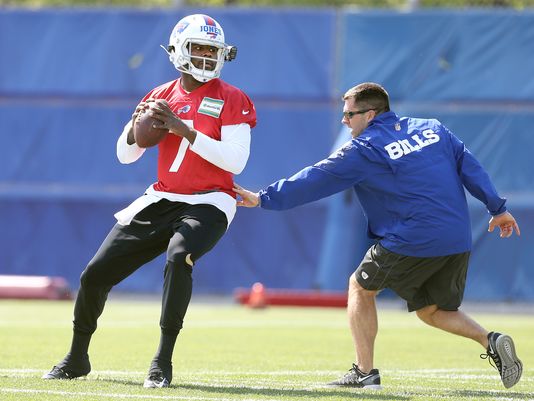 The Buffalo Bills finished 2015 as an average 8-8 team. Buffalo didn't endure much change this offseason focusing on retaining their players such as Cordy Glenn and Richie Incognito. Can the Bills find their way to the postseason for the first time since 1999?
3 Position Battle To Watch:
Back Up Quarterback: Cardale Jones vs. E.J. Manuel
For whatever reason the Bills don't appear to be entirely sold on Tyrod Taylor. If Taylor doesn't progress maybe one of these two guys gets a shot down the road. E.J. Manuel is the likely back up but he has been nothing but a bust since being drafted in the first round in 2013. Don't agree? Manuel is the only quarterback to lose a game in three different countries which tells you all you need to know. Cardale Jones is a rookie from Ohio State that appears to be a real wildcard. He somehow went from national championship winner to back up.
2. Defensive Line: ???
Buffalo's defense is pretty darn good but they are thin up front. Marcell Dareus and Kyle Williams figure to be two of the three starters. Rookie Adolphus Washington will probably be the other but there isn't much depth here. The opposite can be said for pass rushers as they have a number of guys who can get after the quarterback.
3. Wide Receiver: Marquise Goodwin vs. Leonard Hankerson vs. Robert Woods
Losing Chris Hogan probably hurts a little more than previously thought. Sammy Watkins is a stud but the complimentary wide out are lackluster. Goodwin was an Olympic track tryout and the others haven't performed. Rookies Dezmin Lewis and Kolby Listenbee could be options as well.
Ready To Break Out: Sammy Watkins
Speaking of Watkins he is my breakout candidate for this season. After a really slow start to his season he finished with 6 touchdowns over his final 6 games. Look for Sammy to take the next step this season.
Fantasy Sleeper: Tyrod Taylor
Taylor had an up and down first season as a starter in Buffalo. However he only figures to improve and will add some rushing stats to pad his fantasy stats. A deep sleeper to watch is runningback Jonathan Williams who is a rookie from Arkansas.
Rookie To Watch:
I absolutely loved Buffalo's Draft as they seemingly hit on every single pick. For all intensive purposes let's go with Reggie Ragland who figures to be the perfect middle linebacker for Rex Ryan's defense.
Buffalo has a pretty strong roster as I wouldn't be shocked how their season went either way. They could range anywhere from 7-10 wins.