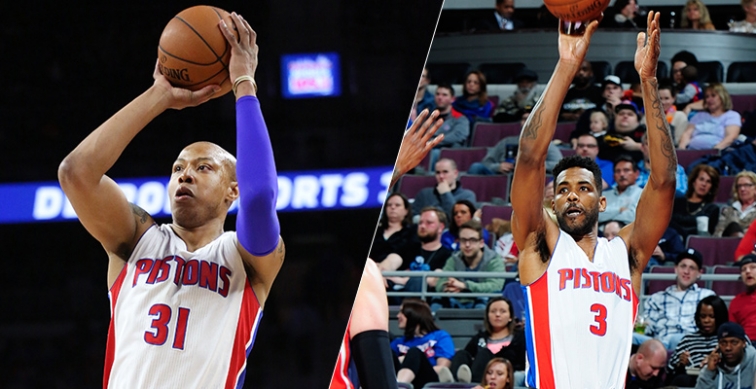 The 2015 NBA Finals are not anywhere close to being over but that won't stop two of the other 28 NBA teams not playing right now from making a deal. Division rivals, the Detroit Pistons and Milwaukee Bucks, make a deal to send one player back to a team he once played for.
Pistons are sending Caron Butler back to the Milwaukee Bucks along with Shawne Williams in a trade that sees stretch-four from the Bucks Ersan Ilyasova getting sent to Detroit in return.
Following from an official Pistons press release.
"Ersan Ilyasova is a player we have coveted since we got to Detroit," said Stan Van Gundy, Head Coach and President of Basketball Operations for the Detroit Pistons. "Not only is he a proficient three-point shooter that can stretch the floor, he is a high-energy, hard-playing guy who fits extremely well with how we want to play. We are excited about what he can add to our team."

"We appreciate the contributions of Caron and Shawne. Caron, in particular, is difficult to say goodbye to. Not only did he play well for us, his leadership went above and beyond. I'm not sure I've ever seen a single player have a more a positive impact on a team than Caron did on ours. He is a special person and we will always respect and appreciate what he did here."
The move makes sense for both sides in more than one way.
May not be relevant, but Ilyasova's salary means DET can't get max cap room while also keeping Monroe's cap hold on the books.

— Zach Lowe (@ZachLowe_NBA) June 11, 2015
Flip side, of course, is that DET could still have max room by letting Monroe walk and (if really necessary) waiving Tolliver.

— Zach Lowe (@ZachLowe_NBA) June 11, 2015
Beyond some easy cap relief, the Pistons are getting a stretch four in Ilyasova that allows the Pistons to all but allow Greg Monroe to walk before they're forced to make a decision on his future with the team. Ersan has been a starter in the league for a while now and his ability to stretch the floor will certainly allow for the Pistons to just keep Andre Drummond in the paint for a majority of the time.