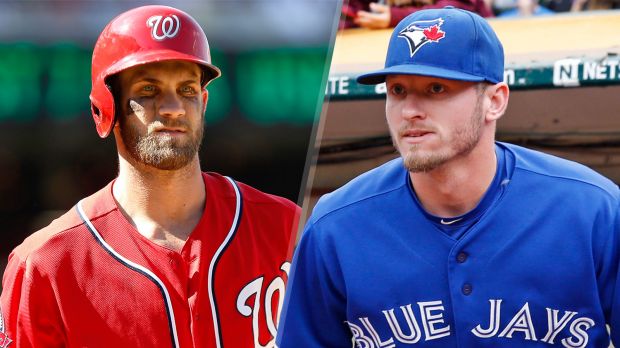 The culmination of the MLB;s awards week is here. Other awards have been announced earlier this week including the manager of the Year and Cy Young awards but the crowning jewel of the MLB awards was handed out today.
In the National League, Washington Nationals outfielder Bryce Harper has been named the NL MVP. In the American League, Toronto Blue Jays third baseman Josh Donaldson was named the AL MVP.
Harper winning the award sets a couple of fascinating bench marks. He's the youngest unanimous MVP in MLB history and he's also the first MVP in the history of the Nationals/Montreal Expos franchise. He hit .330 with 42 homeruns, 99 RBI, 38 doubles, 118 runs, a .460 OBP &, .649 SLG & a 1.109 OPS. Harper is the only player in MLB history with at least 42 HR, 124 walks and 118 runs scored at age 22 or younger. Harper either led or was tied for the lead in the NL in multiple categories including home runs, runs scored, on-base percentage and slugging percentage.
Donaldson was the driving force behind the Blue Jays first playoff berth in over 20 years. Josh helped Toronto to the second-best record in the AL and its first AL East title & Postseason berth since 1993. Donaldson hit .297 with a career-best 41 homeruns, 123 RBI, 41 doubles, 184 hits, 122 runs & .568 slugging percentage. He led the MLB with 122 runs scored and led the AL with 123 RBIs and Donaldson was also first in the AL with 84 extra-base hits, second to Trout with 8.7 WAR and third with a .939 on-base plus slugging percentage. He's the first member of the Blue Jays to win the award since George Bell was the first Blue Jays player to win the award in 1987.
Following from MLB.com.
Harper claimed all 30 first-place votes for 420 total points, topping runner-up Paul Goldschmidt of the D-backs (234 points) and third-place finisher Joey Votto of the Reds (175 points).

Donaldson earned 23 first-place votes for 385 total points, ahead of Angels outfielder Mike Trout (seven first-place votes for 304 points) and Royals outfielder Lorenzo Cain (225 points).