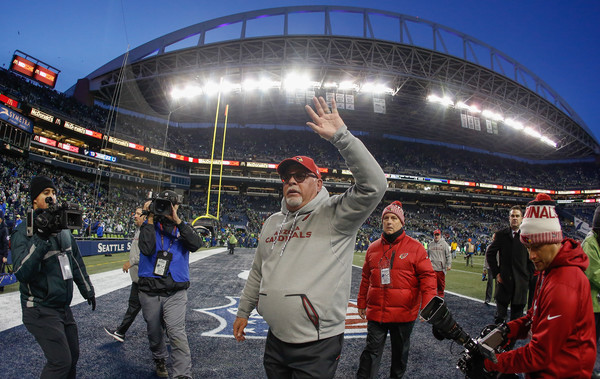 Over the past few seasons, there appears to be two different trends happening with NFL head coaching hires. The different offer quite the opposite outlooks on what works in the league. On one hand, teams are choosing young, largely unproven positional coaches or coordinators to lead their teams (like the Rams with Sean McVay a couple years ago and the Packers with Matt LaFleur, among others). The other, older, proven coaches who were once the envy of the NFL but flamed out, went into broadcasting, and are making a hopefully-triumphant return (the Raiders and Jon Gruden, for example). The latest example of the latter comes with the Tampa Bay Buccaneers reportedly hiring Bruce Arians as head coach.
The #Bucs are signing Bruce Arians to a 4-year deal with a fifth-yaer option, source said. Among the coaches Arians hopes to finalize deals with: Harold Goodwin as Run Game Coordinator/OLine, Byron Leftwich as Pass Game Coordinator and Clyde Christianson as QB coach.

— Ian Rapoport (@RapSheet) January 8, 2019
Coincidentally, Arians will be replacing Dirk Koetter, who, at the time of his hire, would have fit the description of the first group of coaching candidates mentioned above.
Arians first head coaching gig as a pro was in Indianapolis when he took over for Chuck Pagano while Pagano battled a leukemia diagnosis during the 2012 season. (Arians, himself, is a survivor of prostate cancer.) Leading up to that point, Arians was the team's offensive coordinator.
Nevertheless, Indianapolis went 9-3 while coached by Arians, making him the hottest candidate going into that offseason. Especially since the Colts brought Pagano back after a clean bill of health. Eventually landing with the Cardinals in Arizona, Bruce Arians amassed a 49-30-1 record over five seasons. Arizona went 1-2 in the playoffs in that span. The highlight of his tenure there was a 13-3 regular season in 2015 which culminated in a loss to the Carolina Panthers in the NFC Championship game. (The Panthers eventually lost to the Denver Broncos in the Super Bowl.)
This season, Arians spent the year in the broadcast booth, where he did games for CBS.
Since Arians retired, rather than be fired when he left the Cardinals, Arizona petitioned the league making the case they retained his rights as a coach. Thus, the Cardinals received compensation for Tampa Bay's hire in the form of late-round draft picks:
NFL initially told Buccaneers no compensation needed to hire Bruce Arians. But Cards made late argument to NFL that they held Arians' rights. Rather than having a protracted dispute, Bucs sent a 6th-round pick to Arizona for Arians' rights and a 7th-round pick, per source.

— Adam Schefter (@AdamSchefter) January 9, 2019
Tampa Bay finished last in the NFC South with a 5-11 record, the same tally they ended the 2017 season with. Bruce Arians will be the Bucs 12th head coach. Next season will be the organization's 44th season in existence.