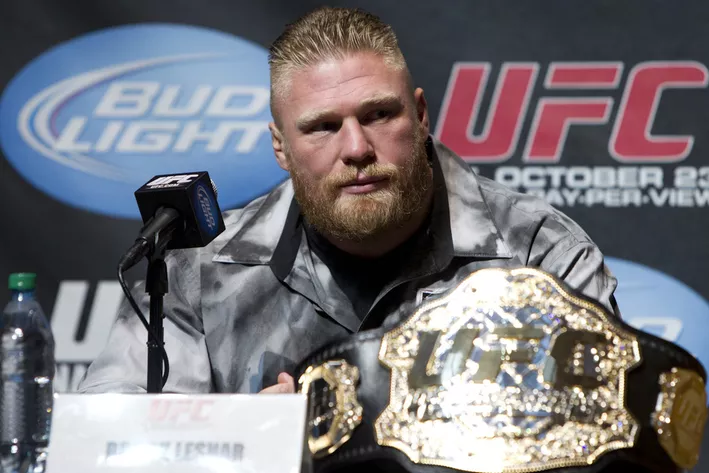 Brock Lesnar has not been in a UFC octagon for a fight since his loss to Alistair Overeem at the UFC 141 event in 2011. Since then, Lesnar returned to the WWE and saw main event success while he was headlining pay-per-views against superstars like John Cena, Triple H, The Undertaker, Seth Rollins, Roman Reigns and others with some relatively positive success. He had runs as the WWE World Heavyweight Champion and he even ended The Undertaker's undefeated Wrestlemania streak.
Yet despite his success with the company and pretty cushy schedule, it appears that the 'Beast' is hungry for more octagon. Last year, Lesnar announced he would re-sign a contract with the WWE after the UFC attempted to bring him back but their efforts failed.
With UFC 200 rolling right around the corner and no clear record-breaking main event set due to the Conor McGregor fiasco, the UFC has decided to pull out all the stops and they are looking to bring back their former Heavyweight Champion.
Following from Ariel Helwani of MMAFighting.com.
The UFC is in serious talks with former heavyweight champion Brock Lesnar to have him fight at UFC 200 on July 9 in Las Vegas, multiple sources confirmed with MMA Fighting.

Both sides are close to finalizing a deal, and if all goes well, Lesnar's return to mixed martial arts could be announced imminently.

While talks are progressing well between Lesnar and the UFC, an opponent for Lesnar isn't close to being finalized. It is unclear at this time who is under consideration.
With this news, speculation has run rampant about who Lesnar's opponent might be. Could it be a third installment against Frank Mir or what about Shane Carwin or Mirko Cro Cop? His opponent needs to be a relatively big name in order to get some buzz surrounding an event the UFC hopes to be the biggest in their history.
Guess Vince McMahon might not be a better fight promoter than Dana White after all.
UPDATE:
Brock Lesnar will officially fight at UFC 200. He was seen at an in house promo, as reported by Brett Okamoto of ESPN.
UFC 200 promo in house shows the main fighters competing on the card … then Brock Lesnar punches the camera at the end.

— Brett Okamoto (@bokamotoESPN) June 5, 2016