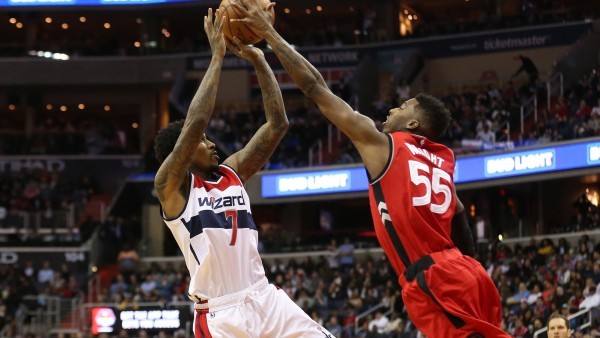 Just one game into his Washington Wizards career, Brandon Jennings has already appeared to take a shot at the Knicks, his former team that waived him last week.
Following the Wizards' 106-114 loss to Toronto on Friday night, Jennings shined light on the key difference between his current franchise and former franchise.
"I'm in the same position I was in New York, but just in a better system for me personally and with a team that actually plays together," Jennings said, (via CSN Mid-Atlantic).
It's no secret, the Knicks have struggled throughout the course of this season. They underperformed when Jennings was on the team, and underperformed without Jennings on Friday night in a close loss to a Joel Embiid-less Philadelphia 76ers.
The blame for what's happened in New York shifts daily — from the top of the mountain with owner Jim Dolan, to Phil Jackson and his front office executives, and all the way down to the players themselves.
Injuries, unfortunate luck, poor execution, lack of leadership, and nonsensical contracts; it's the norm for New York. But for Brandon Jennings, who signed his contract to join the Wizards last week, these various problems are now in the rearview mirror.
As the Knicks' struggles of playing like a collective unit continue, Brandon Jennings' new role of contributing to an Eastern Conference contender has sparked a new mentality in him.
"I'm glad I got this one out of the way," Jennings said of his Wizards debut on Friday. "I wish we would have won, of course, but I definitely know what I can do now. I have to be aggressive."
A rejuvenated, motivated, aggressive Brandon Jennings is exactly what the Wizards hope to have entering the Playoffs next month.