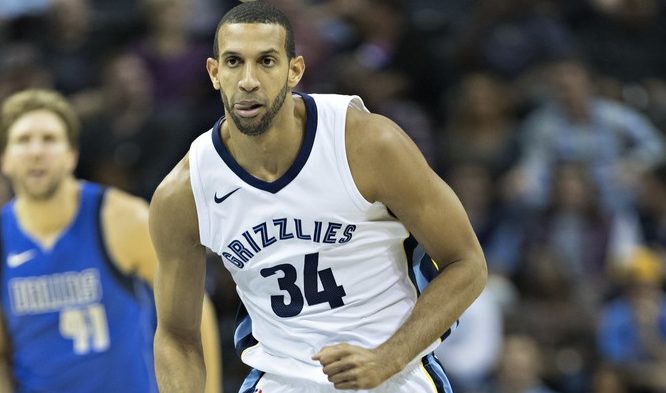 The Memphis Grizzlies are expected to buyout big man Brandan Wright after not finding a trade for him. Grizzlies radio host Chris Vernon reported the Rockets and Grizzlies potentially had a deal at the trade deadline but nothing ever materialized even though Brandan Wright waived his trade kicker.
As reported on show today… Brandan Wright waived his trade kicker yesterday for a deal that woulda landed him in Houston that ended up falling through. Will be interesting to see where ends up after buyout complete.

— Chris Vernon (@ChrisVernonShow) February 10, 2018
The Grizzlies are going to buyout Wright and he is expected to join the Houston Rockets after it is finalized.
Chris B. Haynes of ESPN first reported the news of Wright's buyout.
Brandan Wright and Memphis Grizzlies are working toward a buyout, league sources tell ESPN. He'll be coveted by contending teams.

— Chris Haynes (@ChrisBHaynes) February 10, 2018
Following comes from Shams Charania of Yahoo! Sports.
After he completes a contract buyout with the Memphis Grizzlies, center Brandan Wright is planning to sign with the Houston Rockets for the remainder of the season, league sources told Yahoo Sports.

Wright was finalizing a buyout with the Grizzlies on Friday night, with the Rockets emerging as the leaders once he clears waivers, league sources said.
Wright, 30, has averaged five points and 3.4 rebounds in 27 games this season. The athletic big man has played 10 NBA seasons but has battled some injuries throughout the years. He played for the Grizzlies, Boston Celtics, Phoenix Suns, Dallas Mavericks, New Jersey Nets and Golden State Warriors averaging seven points and 3.6 rebounds for his career.