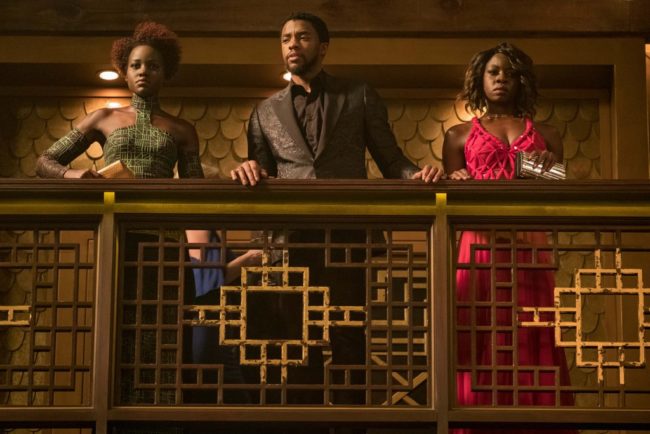 Our list is now outdated. Black Panther is unquestionably the best film in the Marvel Cinematic Universe, and right up there with The Dark Knight, Richard Donner's Superman, and Sam Raimi's Spider-Man as the greatest the genre has to offer. It's really that good.
Though it took a while to get off the ground (in decades past, Wesley Snipes and John Singleton each tried their hand at getting a movie version made), the end result is very much worth the wait. Director Ryan Coogler has worked his magic once again.
Picking up just after the events of Captain America: Civil War, Prince T'Challa (Chadwick Boseman) has returned to his home country of Wakanda – a hidden nation in central Africa technologically-advanced far beyond the rest of the world – to partake in the ceremony to become king and officially earn the Black Panther title. With confidants such as Nakia (Lupita Nyong'o), a valued operative; Okoye (Danai Gurira), head general of the royal guard; W'Kabi (Daniel Kaluuya), security chief and best friend; and Zuri (Forest Whitaker), a senior advisor, by his side, he's figuring out how best to care for his people while navigating the geopolitical landscape.
But Klaw (Andy Serkis) has resurfaced since Age of Ultron. His previous attacks on Wakanda caused horrific damage and deaths, including the parents of W'Kabi. As his father King T'Chaka (John Kani) had failed to bring him to justice, T'Challa vows to not let that happens again. However, Klaw has allied himself with Erik "Killmonger" Stevens (Michael B. Jordan), an American ex-military special ops soldier with a pointed interest in Wakanda.
This is a spoiler-free review, but there is so much to the deep themes to mine here. For instance, there's loyalty and responsibilities: where they begin and end, where they intersect or at conflict, and to just whom should they be. The script from Coogler and Joe Robert Cole is infused with a heightened sensibility, tackling important subjects and their impact on those affected. Also, again not to give anything away, a few pretty bold moves are taken with the narrative that pay off quite well.
Wakanda itself is gloriously realized, a true cinematic wonder to behold. It's impeccably shot and crafted, bursting with imagination and well-committed to the Afrofuturist aesthetic. But beyond just the visual, the world presented is highly fascinating. The customs are interesting and the music (score by Ludwig Göransson with original songs from Kendrick Lamar) is superb. If nothing else, the film leaves the viewer very much wanting to see more of what this land has to uncover.
The cast is fantastic across the board, one of the greatest ever assembled for a comic book movie. In addition to the excellent work from those already mentioned, plenty more get in moments to shine. Letitia Wright is fantastic as Princess Shuri and gets some of the best lines. Also returning from Civil War is Martin Freeman as Everett Ross, who's more fun and makes more of an impression this time around. Plus Sterling K. Brown, Winston Duke, and Angela Bassett as the Queen Mother contribute memorably.
With a property that means so much to so many, all eyes were on this one to succeed and it does so with flying colors. Black Panther is a more or less perfect realization of the material on the big screen, an instant classic and unforgettable film experience. Wakanda forever!