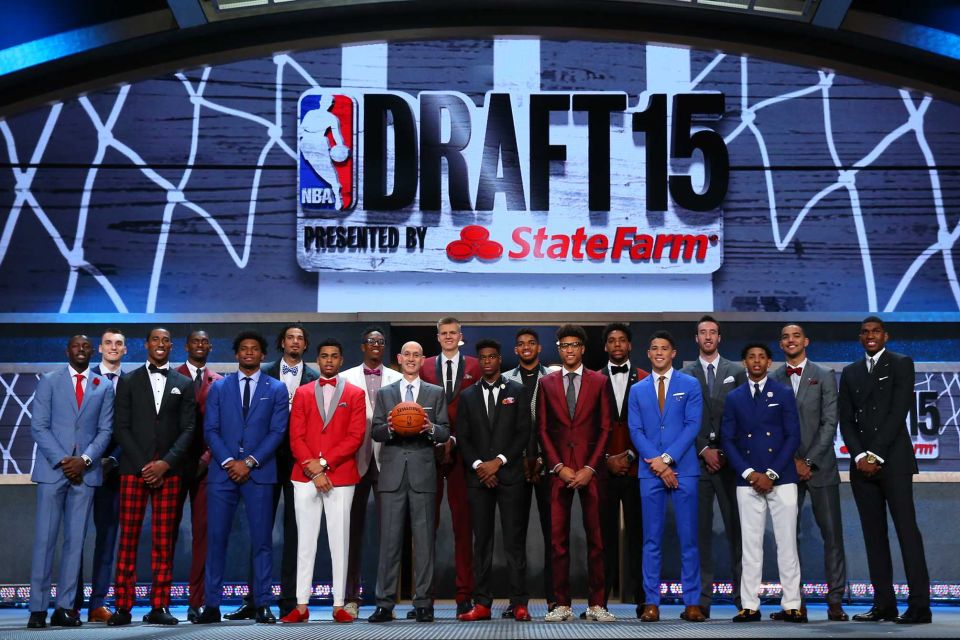 6. Jordan Mickey, Boston Celtics, No. 33
The Celtics' frontcourt is a bit crowded with the presence of Jared Sullinger, Kelly Olynyk, Brandon Bass, and Tyler Zeller. So, LSU power forward Jordan Mickey will have to fight for playing time, and might not get to play too much his rookie season. That being said, he was a huge steal at 33. Boston head coach Brad Stevens said that he was "really surprised" that Mickey was on the board when the Celtics picked. Despite being a bit small for a power forward at 6'8″, Mickey led Division 1 basketball in blocks per game, which should erase doubts regarding his height.
5. Bobby Portis, Chicago Bulls, No. 22
Like Mickey, Arkansas' Bobby Portis may not get too much playing time his rookie year. After all, he plays the same position as Pau Gasol and Taj Gibson, and both of them will be ahead of him in the rotation. Long term though, Portis should be a very good player. He's got good size at 6'11" and 242 pounds, has great energy, and tons of upside. Portis was one of the better players in the nation during his sophomore season, averaging 17.5 points and 8.9 rebounds while knocking down 53.6% of his shots. Most expected Portis to be gone before the Bulls picked at 22(I was rooting for my Celtics to take him at no. 16).
4. Kevon Looney, Golden State Warriors, No. 30
UCLA's Kevon Looney originally looked to be a potential lottery pick, before his stock plummeted. Teams were scared off by his injury, but Looney shouldn't miss much of his rookie season, if any.
The Golden State Warriors, who are coming off a championship, got a huge steal, grabbing Looney with the final pick of the first round. Looney averaged 11.6 points and 9.6 rebounds per game during his rookie season. At 6'9″, Looney has good size, but can also stretch the floor(shot 41.5% on 3-pointers). Looney is a nice addition to a Warriors squad that's already packed with talent. He could contribute immediately if he pans out, and could come off the bench for Draymond Green.
3. R.J. Hunter, Boston Celtics, No. 28
The Celtics make the list again with their selection of R.J. Hunter at no. 28. Not many knew who Hunter was prior to the NCAA tournament. In the tournament though, Hunter turned heads with his hot shooting, upsetting Baylor in the round of 64. During the 2014-2015 season, Hunter averaged 19.7 points, 4.7 rebounds, 3.6 assists, and 2.1 steals per game. Hunter shot 35.4% from deep during his 3-year run at Georgia State.
While Hunter will need to work on improving his efficiency in the NBA, he already has the ability to get his own shot, something that many players struggle with out of college. Hunter has great length for a 2 guard at 6'5″ with a 6'10.5″ wingspan. Hunter is also a great free throw shooter(87.8% his junior year), and got to the line quite frequently(6.6 attempts per game his junior year). Efficiency is the only question mark with Hunter. Other than that, he's NBA ready(although like most college players he could stand to put on some weight).
2. Emmanuel Mudiay, Denver Nuggets, No. 7
With the drafting of Emmanuel Mudiay, it seems Nuggets' point guard Ty Lawson is all but out the door. Mudiay was a great value at the 7th pick for Denver. He was originally a top 3 prospect, behind only Jahlil Okafor and Karl-Anthony Towns. Mudiay opted to play in China last year, rather than play at SMU. In China, Mudiay averaged 18 points, 6.3 rebounds, 5.9 assists, and 1.6 steals per game. Mudiay is 6'5″ and 200 pounds, with a 6'8.5″ wingspan.
The consensus on Mudiay is that he's a super explosive point guard with all the physical tools to succeed, although he lacks a jumper. He's been often compared to Russell Westbrook(but taller). Despite the knock on Mudiay's jumper, he shot 34.2% from long-range last season. While that is by no means great, it suggests that he could develop a nice shot. The other downside to his game is his free throw shooting(57.4% last season).
1. Justise Winslow, Miami Heat, No. 10
Did you expect anyone else to be at the number 1 spot? Duke's Justise Winslow could very easily wind up being one of the top-5 players out of this draft, and I'm still not sure how he fell all the way to 10 for the Heat to snatch up. In Winslow's only season at Duke, he averaged 12.6 points, 6.5 rebounds, 2.1 assists, and 1.3 steals per game. Winslow was the defensive heart behind that Duke national championship team, and was no slouch on offense either. Winslow shot 48.6% from the field and an excellent 41.8% from downtown.
Winslow will be a perfect fit in Miami, where he can learn from Luol Deng and then eventually replace him as Miami's starting small forward. Winslow can also play multiple positions(shooting guard through power forward) if Miami needs him to. Getting Winslow was huge for the Heat, and it was a major steal. I bet Pat Riley's had an enormous grin on his face since the draft that hasn't wavered yet.