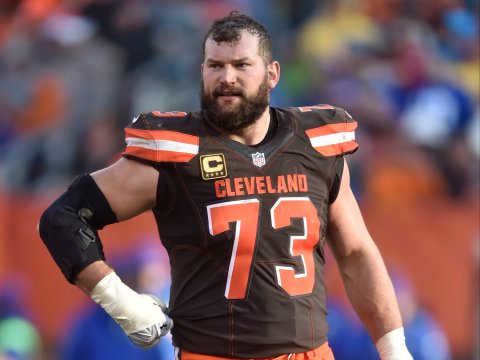 Here is a list of the most significant NFL injuries in week seven.
Joe Thomas – OT – Cleveland Browns
Joe Thomas is viewed as the NFL's iron man. Unfortunately yesterday, he missed his first snap in 11 seasons.
#Browns LT Joe Thomas is feared to have a triceps tear, sources say. If the MRI confirms it Monday, it likely means season-ending surgery.

— Ian Rapoport (@RapSheet) October 22, 2017
Joe Thomas' consecutive snap streak ends at 10,363. Spanned 11 seasons, 167 games.

— Andrew Gribble (@Andrew_Gribble) October 22, 2017
This is as bad as it gets for Browns' fans. Once Thomas receives more testing, we will know how long he is out.
Carson Palmer – QB – Arizona Cardinals
Carson Palmer took a big hit early in the second quarter in Sunday's London matchup against the Los Angeles Rams. He stayed on the ground longer than Cardinal fans would have liked. Head coach Bruce Arians told reporters after the game that Palmer broke his arm and will miss significant time.
#AzCardinals QB Carson Palmer broke his arm and is out about 8 weeks, according to coach Bruce Arians. It's Drew Stanton from now on.

— Ian Rapoport (@RapSheet) October 22, 2017
Jay Cutler – QB – Miami Dolphins
Jay Cutler took a nasty hit in the third quarter against the New York Jets on Sunday. Matt Moore filled in for Cutler immediately after as Cutler went to the locker room for further examination.
#Dolphins QB Jay Cutler is feared to have a cracked rib & is heading for X-Rays, sources say. MIA doesn't know for sure & will check it all

— Ian Rapoport (@RapSheet) October 22, 2017
Dolphins believe QB Jay Cutler suffered two cracked ribs today that could sideline him two to three weeks, per source. More tests coming.

— Adam Schefter (@AdamSchefter) October 22, 2017
Dolphins fans may want Matt Moore to continue starting for the Dolphins as he led them to a 31-28 victory.
It's weird how people view Matt Moore… pic.twitter.com/VqYWVDhDLb

— Benjamin Allbright (@AllbrightNFL) October 22, 2017
Other Notable Injuries
Duke Riley – LB – Atlanta Falcons (Knee Injury)
Mike Wallace – WR – Baltimore Ravens (Concussion)
Dan Bailey – K– Dallas Cowboys (Groin Injury)
Delanie Walker – TE – Tennessee Titans (Ankle Injury)
Kevin Minter – LB – Cincinnati Bengals (Elbow Injury)
Cam Robinson – OT – Jacksonville Jaguars (Ankle Injury)
Malik Hooker – FS – Indianapolis Colts (Torn ACL & MCL)
Rashaan Melvin – CB – Indianapolis Colts (Concussion)
Reuben Foster – LB – San Fransisco 49ers (Rib Injury)
C.J. Prosise – RB – Seattle Seahawks (Ankle Injury) 
Justin Pugh – OT – New York Giants (Back Injury)
E.J. Gaines – CB – Buffalo Bills (Hamstring Injury)
John Sullivan – C – Los Angeles Rams (Knee Injury)
Brandon Shell – OT – New York Jets (Neck Injury)
Ryan Kalil – C – Carolina Panthers (Neck Injury)
Laremy Tunsil – OT – Miami Dolphins (Knee Injury)
Roy Robertson-Harris – DL – Chicago Bears (Hamstring Injury)
Thursday Night Injuries
David Amerson – CB – Oakland Raiders (Foot Injury)
Stay tuned for more updates.