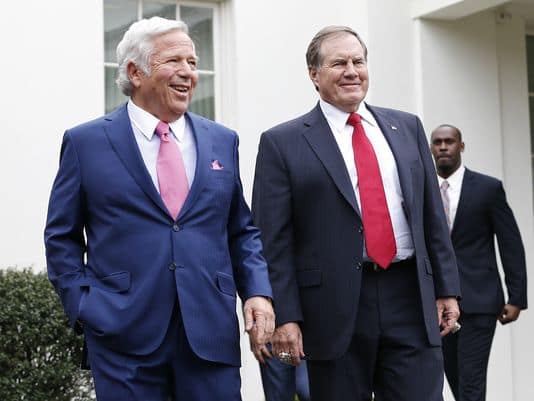 While it remains to be seen whether or not this will elevate to a Spygate 2.0 level or even if the New England Patriots will face any repercussions, the Cincinnati Bengals have accused the Patriots of wrongly taping their sideline during practice leading up to their Week 15 game.
Paul Dehner, Jr. of The Athletic reported that the tape "shows about eight minutes of footage focusing on recording the Bengals' sideline," and goes on to specifically say the focus was players running on and off the field and players and coaches signaling plays.
In response, a message was posted to the Patriots' social media pages on behalf of the team:
Statement from the New England Patriots. pic.twitter.com/rhXdwVvnr8

— New England Patriots (@Patriots) December 10, 2019
In 2007, the Patriots were accused of similar wrongdoing. Then, commissioner Roger Goodell fined the team $250,000 and stripped the team of their first-round draft pick in the 2008 draft.
The most recent case is still in the early stages, so what will happen is anybody's guess. However, the NFL has not been kind to repeat offenders.
When it comes to red flags surrounding this New England team…the aging quarterback…the woefully inefficient offense…the all of a sudden erratic defense – all pale in comparison to the fact that THE PATRIOTS FEEL THE NEED TO ILLEGALLY RECORD THE 1-12 CINCINNATI BENGALS!!!

— Cousin Sal (@TheCousinSal) December 10, 2019
The 2007 accusation was originally made by the New York Jets, saying New England had installed cameras that focused on the opposing sideline during the game and were on during the team's walkthrough practice leading up to their game.
The two teams will kick off on Sunday in Cincinnati at 11 a.m. EST. New England is currently 10-3 and in first place in the AFC East. The Bengals are 1-12 and in last in the AFC North.