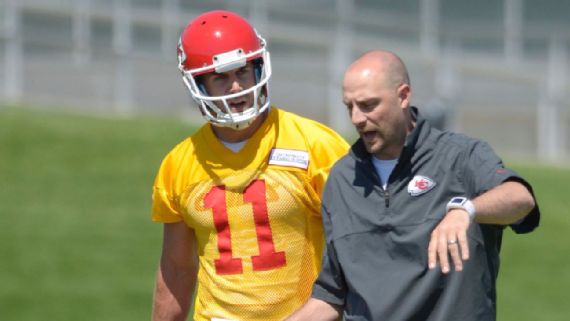 The Chicago Bears brief coaching search came to an end Monday morning. Kansa City Chiefs OC Matt Nagy was hired to steer the franchise for the time being. The bears announced this on Twitter and stated he would be available Tuesday at a press conference.
We have officially named Chiefs offensive coordinator Matt Nagy as our new head coach.

Welcome to Chicago, #HeadCoachNagy. ??? pic.twitter.com/3bcZ0OJOEV

— Chicago Bears (@ChicagoBears) January 8, 2018
Matt Nagy is the second head coach hire as the Raiders hired John Gruden just a few days ago. Nagy was a QB coach then co-OC and finally calling the plays during his five seasons under Andy Reid.
The Kansas City Offense thrived under Nagy this year. They finished 5th in the overall offense as well as seeing Alex Smith post career highs in several categories, and Kareem Hunt, lead the NFL in rushing. This was well on display early in Saturday's game until the Titans stormed back for the win.
Nagys biggest task will be constructing a system in which Mitchell Trubsiky can grow in. This will be made a little easier with the franchise hiring him so early he will have more than enough time to find a staff and work with their pivot of the future.