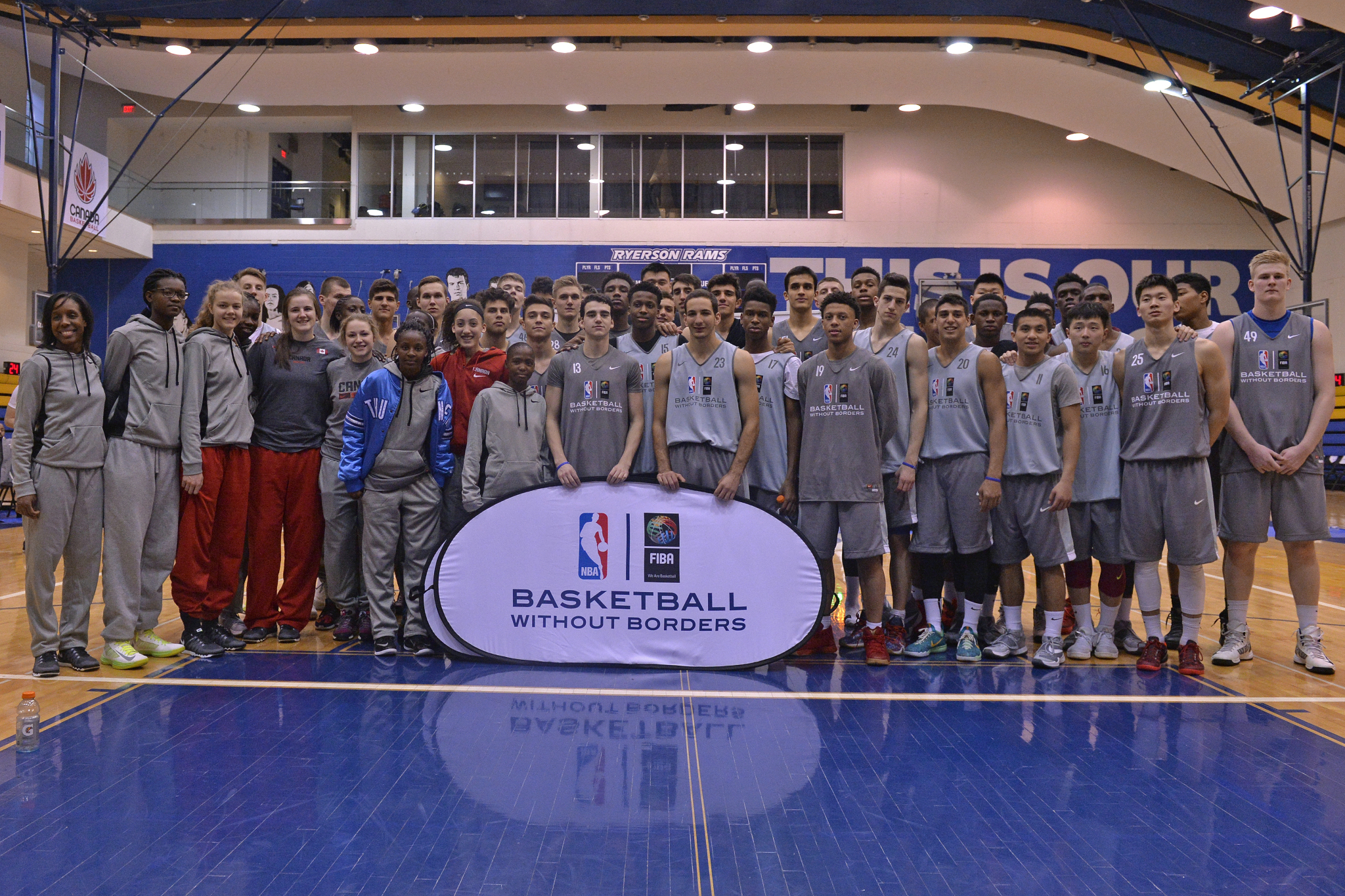 The NBA will be hosting the third annual Basketball Without Borders (BWB) Global Camp with the help of FIBA (International Basketball Federation) and Nike on February 17-19th at All-Star Weekend. The NBA and FIBA held the first camp in New York back in 2015.
Since Basketball without Borders inception back in 2001 with Vlade Divac and Toni Kukoc in Europe, the BWB has reached 2,690 participants with 43 being eventually drafted into the NBA. This year, the attendees will be able to participate in activities like the shooting and skills competition, 5-on-5 games, and daily life skills seminars.
This year's rosters will be coached by NBA players such as; Cheick Diallo, Wayne Ellington, Justin Holiday, Meyers Leonard, Thon Maker, and Emmanuel Mudiay. The participants will also have access to a plethora of former coaches, trainers, and even be able to attend the BBVA Compass Rising Stars Challenge, State Farm NBA All-Star Saturday Night, and the 66th NBA All-Star Game. Not to mention being outfitted by Nike apparel.
The following comes from an official press release by the NBA.
"The Basketball without Borders Global Camp is a great opportunity for the top male and female prospects from around the world to compete against one another, learn directly from NBA and FIBA players, legends and coaches, and experience the excitement of NBA All-Star," said NBA Vice President, International Basketball Operations & Head of Elite Basketball, Brooks Meek. "The Basketball without Borders program was founded on the belief that basketball brings young players from different backgrounds together and transcends cultural boundaries."

"We look forward to the Basketball without Borders Global Camp taking place in New Orleans and tipping off another exciting year of the BWB program," said FIBA National Federations & Sport Director Zoran Radovic. "The camp, which brings together youth players from across the globe, has already gone from strength to strength in a very short period of time and provides campers with the experience of a lifetime, both on and off the court."
Joining the players are some coaches and executives serving as BWB coaches and camp directors.
Current NBA assistant coaches Joe Connelly (Denver Nuggets), Jay Hernandez (Orlando Magic) and Fred Vinson (New Orleans Pelicans), along with Brooklyn Nets scout and NBA D-League Assistant GM Matt Riccardi, will also serve as BWB Global coaches. Patrick Hunt (President of the World Association of Basketball Coaches; Australia), Gersson Rosas (Houston Rockets; Colombia), Marin Sedlacek (Philadelphia 76ers; Serbia) and Masai Ujiri (Toronto Raptors; Nigeria) will serve as camp directors. Former NBA trainer Wally Blase (U.S.) will serve as the camp's athletic trainer.
The NBA recently released the 67 boys and girls lucky enough to participate this season.
GIRLS ROSTER:
| | | |
| --- | --- | --- |
| Last Name | First Name | Country |
| Dongua | Geovana | Angola |
| Armato | Claudia | Australia |
| Epperson | Britney | Australia |
| D'Angelo | Chelsea | Australia |
| Gould | Cassidy | Australia |
| Lorde | Tower | Barbados |
| Brcaninovic | Melisa | Bosnia and Herzegovina |
| Ugwu | Obalunanma | Brazil |
| Pickering | Mahkayla | British Virgin Islands |
| Fahie | Shaliqua | British Virgin Islands |
| Makolo | Roxane | Canada |
| Brown | Hailey | Canada |
| Pellington | Shaina | Canada |
| Tang | Zigi | China |
| Wang | Leyi | China |
| Kuier | Awak | Finland |
| Lathinen | Lotta-Maj | Finland |
| Bejedi | Sara | Finland |
| Prabhakara | Priyanka | India |
| Gulbe | Aleksa | Latvia |
| Coulibaly | Aissatou | Mali |
| Payan | Sofia | Mexico |
| Pinto | Chanaya | Mozambique |
| Sarr | Khadidiatou Bigue | Senegal |
| Hermosa | Nerea | Spain |
| Sahnan | Monique | United Kingdom |
BOYS ROSTER:
| | | |
| --- | --- | --- |
| Last Name | First Name | Country |
| De Sousa | Silvio | Angola |
| Buiamba | Glofate | Angola |
| Caffaro | Francisco | Argentina |
| Lopez | Lautaro Tomás | Argentina |
| Froling | Samson | Australia |
| Epperson | Jacob | Australia |
| Dalton | Callum | Australia |
| Tchamwa Tchatchoua | Jonathan | Cameroon |
| Barrett | R.J. | Canada |
| Shittu | Simi | Canada |
| Dort | Luguentz | Canada |
| Kirkwood | Noah | Canada |
| Akot | Emmanuel | Canada |
| Brazdeikis | Ignas | Canada |
| Nembhard | Andrew | Canada |
| Zhang | Kevin | China |
| Wang | Junjie | China |
| Sun | Haofeng | China |
| Mwamba | Patrick | Democratic Republic of the Congo |
| Raafat | Tarek | Egypt |
| Waxlax | Ricky | Finland |
| Mamukelashvili | Sandro | Georgia |
| Bonga | Isaac | Germany |
| Herkenhoff | Philipp | Germany |
| Verma | Aashay | India |
| Doumbia | Souleymane | Ivory Coast |
| Velicka | Arnas | Lithuania |
| Coulibaly | Abdoul Karim | Mali |
| Keita | Blaise | Mali |
| Sissoko | Moulaye Mamadou | Mali |
| Samuel | Taane | New Zealand |
| Clinton | Quinn | New Zealand |
| Bassey | Charles | Nigeria |
| Sjolund | Kristian | Norway |
| Faye | Cheikh | Senegal |
| Marjanovic | Andrija | Serbia |
| Koprivica | Balsa | Serbia |
| Yang | Jae-Min | South Korea |
| Martinez | Sergi | Spain |
| Brewer | Remy | Trinidad |
| Marnaoui | Oussama | Tunisia |