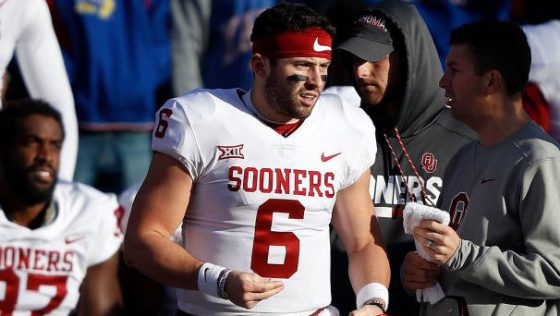 The 2017 Heisman Trophy goes to Baker Mayfield
Having Baker Mayfield win the 2017 Heisman Trophy was honestly a no-brainer to most people. With an incredible season, the Oklahoma quarterback has been on an absolute tear all season long with his impressive numbers. His performance in the Big 12 Title Game basically sealed him the deal after an astonishing victory over TCU.
Mayfield this season has accounted for over 4,300 yards of passing. That stat alone is unbelievable to begin with. He has contributed for 41 touchdowns combined rushing and through the air with only five interceptions total on the year. He threw 369 passes which were hauled in 262 times, which is a 71% completion rate. His stats surpassed Lamar Jackson's in the finalists. With Bryce Love being a running back, his stats weren't as near as amazing as Mayfield's. Baker led his Sooner team to another Playoff appearance, first since 2015. This time, they hope to finally get that victory after a 37-17 loss to Clemson in the Orange Bowl.
Baker Mayfield is the first Heisman winner out of Oklahoma since Sam Bradford back in 2008. Bradford ended up going to the NFL and having a decent career. According to a Bleacher Report 2018 NFL mock draft, Baker Mayfield could potentially be the No. 2 overall pick. In the current NFL situation with the draft standings, that would mean he would be sent to the New York Giants. With his level of athleticism, passing ability, and his mobile play style, any NFL team would want to take him at any possible chance.
Baker Mayfield was the unanimous choice.
Mayfield has impressed all season long and there has been no one better in the country than him. The Sooners are very lucky to have a player such as Baker to lead them to a potential national championship here in 2017.