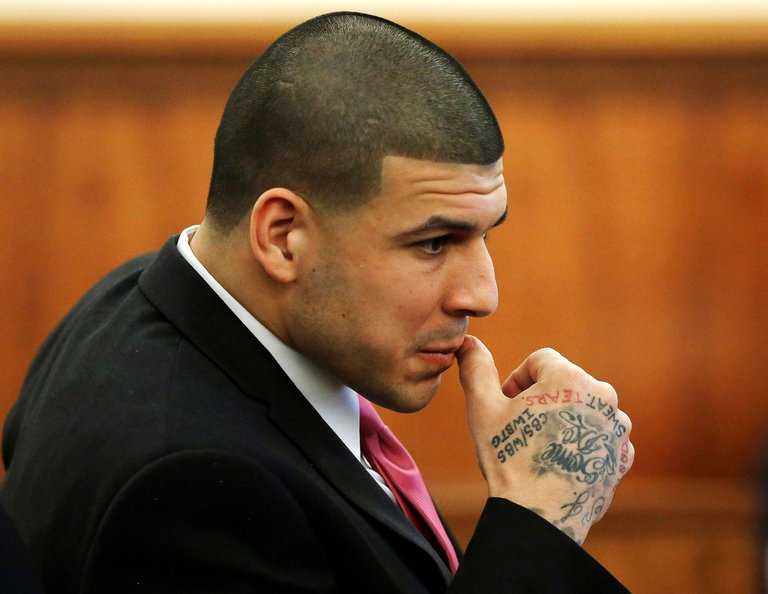 At a news conference at his offices, attorney Joey Baez says testing showed that Aaron Hernandez's brain had signs of the degenerative brain disease chronic traumatic encephalopathy.  The family plans to sue the NFL and the New England Patriots
Jose Baez – Hernandez family lawyer "Aaron Hernandez had stage 3 of CTE…filed a federal lawsuit suing the NFL and th Patriots." pic.twitter.com/Z3FvHVaVAO

— Chad Amaral (@chad_amaral) September 21, 2017
CTE can be caused by repeated head trauma and leads to symptoms such as violent mood swings, depression, and other cognitive difficulties. Hernandez killed himself in his cell while serving a life-without-parole sentence for a 2013 murder. This news broke just hours before the Patriots visited the White House to celebrate their latest super bowl victory.
CTE has been linked to repeated concussions and is involved in frontal region damage that controls things like judgment, emotion, impulse, and social behavior. CTE can only be diagnosed in an autopsy, which a recent study found evidence of the disease in 110 of 11 former NFL players whose brains were examined. Hernandez had the signs of CTE which "is usually found in the median age of67-year-old men" per Chad Amaral of Boston 25 news
Hernandez won the college football title in 2008 with Florida and was drafted in the fourth round of the draft. During his first three seasons in a Pats uniform, he and Rob Gronkowski formed one of the most dynamic tight-end duos in the history of the NFL. In 2011 Hernandez caught 79 passes for 910 and seven touchdowns to help them to the Super Bowl.
In 2013 he was released by the Patriots after being arrested for the murder of Odin Lloyd, who was dating the sister of Hernandez fiancee. He was convicted but it was voided because he died before the appeals were done. Though that decision is still currently in appeal.
A week before his death Hernandez was acquitted in the 2012 drive-by shooting of two men in the Boston area. After being acquitted it was reported that Hernandez was in a good place. When news of his suicide broke some suspected foul play which was investigated.
The Fiancee of Hernandez s filing a lawsuit against the NFL and the New England Patriots for compensation due to the NFL's "Negligent conduct that deprived her daughter of the companionship and society of her father". Here are the opening pages of the lawsuit, filed on behalf of Hernandez's daughter per Bob McGovern of the Boston Herald.
Here is the opening to the #AaronHernandez CTE lawsuit against the Patriots and NFL. pic.twitter.com/hgqsRngj5U

— Bob McGovern (@BobMcGovernJr) September 21, 2017
Here are some specific allegations regarding #AaronHernandez. pic.twitter.com/VMHYGRiCuY

— Bob McGovern (@BobMcGovernJr) September 21, 2017