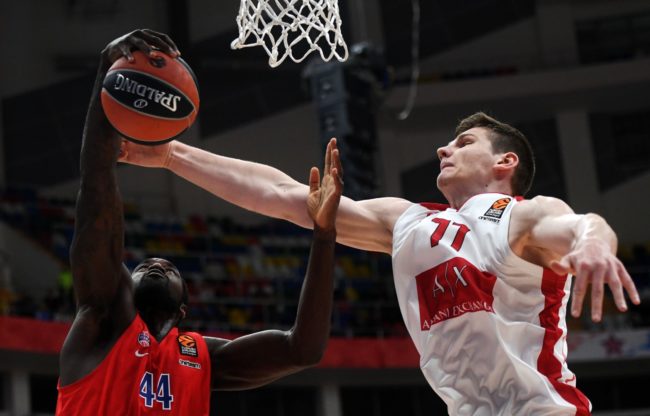 In past days, Lithuanian basketball insider Donatas Urbonas said: "The Cavs want try-out Gudaitis in this summer"
Cavaliers invited Arturas Gudaitis to come to Cleveland this summer for the try out. Olimpia big man told he knew that Cavs were interested in him before trading for his rights. Gudaitis said that Cleveland representatives will visit him in Milano in two weeks.

— Donatas Urbonas (@Urbodo) 22 ?ubat 2018
But despite the interest from Cleveland, Milano wanted to secure the situation for the coming years and re-signed Gudaitis until 2020-2021, the team announced that in past hours.
The Cavs received Gudaitis' draft rights in the past trade deadline from Sacramento Kings. With his rising EuroLeague performance, most of the NBA teams and bigger EuroLeague teams than Olimpia radared the 24-year old center.
In this season, Gudaitis played 38 games with Olimpia. In 19.9 minutes per game, Gudaitis played with 10.4 points, 4.3 rebounds, 0.9 blocks on EuroLeague and Lega Basket Serie A.
Olimpia's announcement:
Pallacanestro Olimpia Milan agreed to terms with center Arturas Gudaitis in order to extend his contract through the 2020-2021 season included.

Gudaitis started his Italian career with 17 points and 17 rebounds in Cremona. His index rating of 31 was the most for an Olimpia player in the first game of the season since Morris Finley had a 34 of index rating in 2009. Against Avellino, he grabbed 20 rebounds, the most since 2000/01 when Stefano Rusconi conquered 21 boards against Imola. In Madrid, he set the club's EuroLeague record for most two-pointers with no misses with 9. Right now, he's second in the EuroLeague in two-point shooting, 11th for rebounds, 13th for shots blocked and he's 15th in index rating among other things. With Olimpia, where he's signed last September, has won the Italian Supercup. He's a member of the Lithuanian National Team. Gudaitis will be 25 in June.