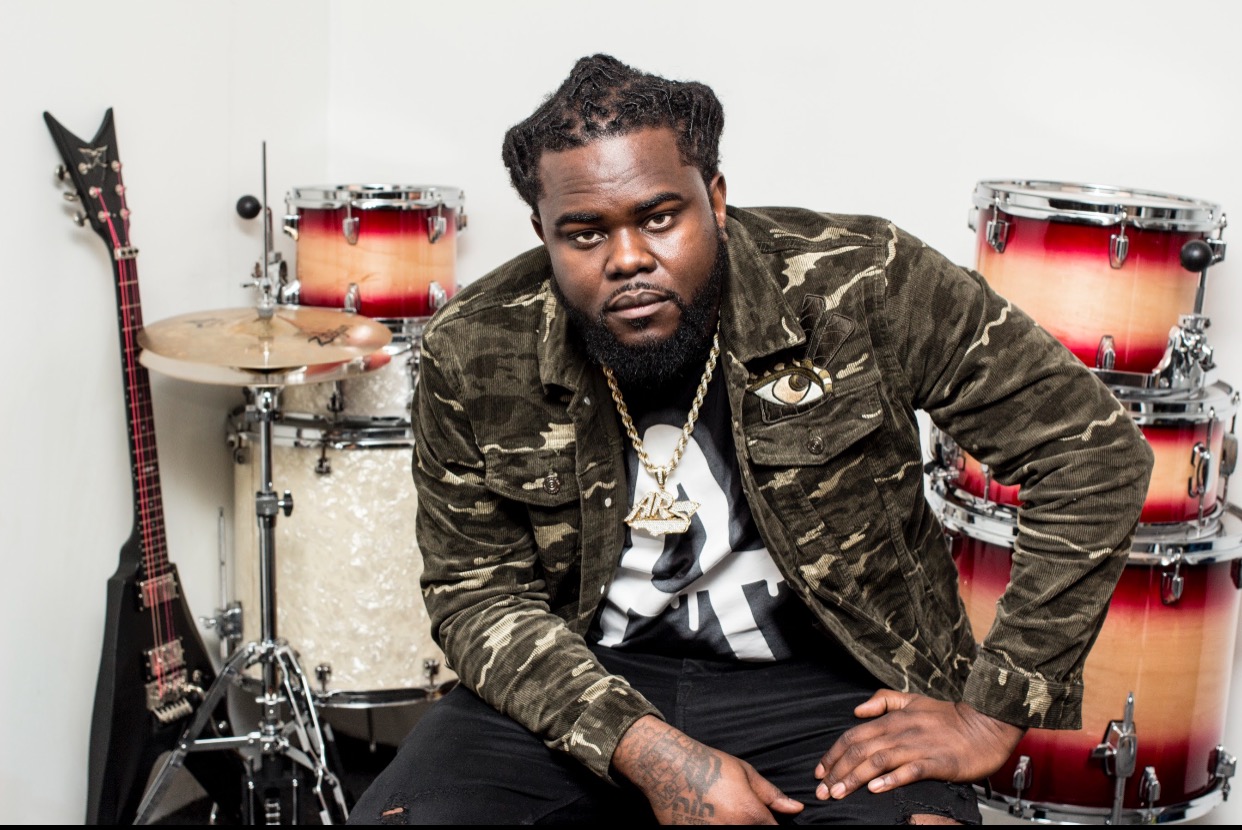 When you think of battle rap, you think of New York and Philadelphia as the juggernauts of the culture since its resurgence. St. Louis has heavy hitters, and New Jersey has given us some of the absolute best the sport has to offer. Most notably, Arsonal Da Rebel.
Ars caught my attention years back with moments like spelling Harlem legend, T-Rex's name out in money on a promo video to sell the fight. Or battling Conceited, who at the time was seen as unstoppable, and they made an absolute classic that still gets debated to this day when it's brought up. We chopped it up recently about the Mt. Rushmore of battle rap, his new music, business ventures, and much more. Get familiar.
Mariano: We definitely have a couple of things to get to but, I want to start with the battle with Official. I follow battle rap heavy, I've yet to check that battle out. I want to get your take on it. What was your energy like when it was booked, the preparation, and the day of the actual battle?
Arsonal: Official is someone that I pushed in the right direction from when I first saw her battle. I always cosigned her. When it came about, was like "damn, this my little sis, I ain't really see that coming. They were talking good money, the business was great. I was like fuck, we going to make this shit happen. I was like how can I disrespect sis but still respect her. So I took it to another level. I really don't want to spoil it for you because you didn't see it, so I'm not going to really elaborate. When you see, you going to see what I mean by that.
That's what I've been getting from people that saw it. They said "he was disrespectful without being disrespectful". 
You are going to see it, it was crazy.
Before we even get to the music, just battle rap wise, and you look at 2020, and everyone is so stat driven, that basically drives the narrative. What do you attribute to being the most viewed battle rapper? 
At the end of the day, I just look at it for what it's worth. I feel like I put in the most work. I feel like I deserve that spot. Even though people won't give me my flowers while I'm here. I look at my accolades. The time I put in. The money I put in my peers' pockets. None of the other battlers doing it like me. They not putting money in our pockets like that. You got one or two battle rappers who got leagues but that wasn't a success. I feel like it's well deserved on my part.
I agree. I had this conversation with one of my homeboys. We talk about battle rap on a daily basis and one of the things we talked about was when you talk about a Mount Rushmore of battle rap, this accolade. And whether you like Arsonal or not, you gotta put him on there. Because like you said, the work you put in, the time, the energy, the effort,  the material, everything. I feel like you belong up there. Does it bother you when people snub you from that conversation?
I mean it doesn't bother me but I definitely hear it. I'll be watching interviews and I'll notice the people who will give their Mount Rushmore and don't even think about saying my name. At the end of the day, some people can't keep it real. The crazy thing is I went on Twitter and said, if I'm not in your top five battle rappers like ever, just off of career stats, just like overall and what I've done for the culture, you clearly a hater of work. Like there's no way possible. There's no way possible that you could have four other motherfuckers — five people in your top five to ever do it for the whole sport of battle rap and not mention me. But if you do, you are just a hater, straight like that. It's like "I don't fuck with Ars, "that's why I ain't mentioned him.". That's the only way. Anybody will tell you, I've done so much for this culture.
You know what,  I would have to agree because it's like, I also have my own theory on the best and greatest. Even sports, right? If you talk about somebody is the best at you their position,  that's more of a thing with skill and being technical about things. But, the greatest is the accolades and the stats and the time and the things that don't show up on the stat sheet so to speak. So I feel like what you're saying is right it's not one of those things where you can't mention battle rap without mentioning Ars. Whether you like Arsonal or not, you got to put them up there. If there are five spots, you got to put him up there. How was it transitioning from being a battle rapper to making music if ever there was a transition?
It's definitely —  I'm not gonna say hard because it's not hard on my behalf. It's just hard to get the people to actually absorb and actually accept what I'm trying to do as far as transition wise. It's not hard to transition and hard because I actually transitioned into a battle rapper because I have always been interested, battle rap fell into my lap, you know, so I transitioned into a battle rapper. So me transitioning to music is like that's second nature to me. It's like, I've been doing music my whole life. I'm just trying to get the fan to transition. It's really not me, my shit speaks for itself. You heard Underrated, Product Of My Environment. You see my visuals, my sh*t looks better than n*ggas that are millionaires. My sh*t sounds better than them too. So it ain't me bro, I'm trying to transition the fans, the ear to actually accept me as a musician and not just look at me as a battle rapper. That's my battle.
Right. For you or for any battle rapper, what do you think is the most important or the key thing to get the fans to be like, "look I can't look at this and be like oh, this is a better rapper. I'm gonna check out this battle rapper's mixtape. How do you remove the stigma and just get them to see you as a rapper?
At the end of the day, I feel like nobody has actually successfully done it. Like ever, not to my knowledge like really really was active battle rapping. They try to say, Meek, they try to say, Cassidy. I'm talking about battle rappers like in our time from Murda Mook, Loaded Lux, Goods, Ars, that era to now. Nobody has made that transition? Not one of us. Right. I feel like it's people who make great music. Shout to my Newark n*ggas You know, I'm saying Surf, Suge. Even Surf, he still ain't make that full transition. He there musically and people are starting to respect him more. His recognization,  he gets on a plane or goes to the airport, a lot of people recognize him for, you battle rap before anything else. That's just what we trying to change. So what I'm doing now, you know, working with Wyclef. Shout out to Uncle Clef. That's our main focus, just making this music, just take over your mind so when you hear it, when you hear Product Of My Environment, if you close your eyes, you're not even gonna know that's Ars. You gonna know it's me from my voice, but that's gonna take you to a whole different world. You're gonna be like this not the battle rap n*gga. And that's what I want. I want people to just be able to close their eyes and just listen to the music and forget the battle rap sh*t.
You know what, it's interesting that you say that because Product Of My Environment in particular, like, the flow you use on it, and everything, like it was different than the Ars that you hear about in battle. Like I mean, obviously, it had to be because it's over a beat, but it was a very different Ars. So it makes sense that you say that, like you can close your eyes and you think about He's like, Nah, that's not even you can't even hear honestly because I think that's the that's kind of maybe the knock that most people might have had or early battle rappers. Like they might not have been able to transition from the cadence from like being acapella and just battling to putting it on the beat. Like you said with Surf's music. I enjoy Surf's music, but a lot of people I think they use his battles as a crutch to not support his music because like if he does bad in the battle they'll discredit his music and it's like, bro, how does that even make sense? Like it's music, right? If the music is good, it's good. 
Oh, it's just new age fans. It's impossible to satisfy everybody and these new-age fans and New Age battle fans New Age music fans like what they like for the time being. It's just crazy.
So one last question on battle rap before we transition into the music and business side of things. When you look back at your career, what do you think is the definitive moment of Arsonal the battle rapper, what battle or moment, or what venue was it that you were like "this is it". 
Fight Klub. I won that money over the pool table. That was the defining moment right there. I said, "yea this is what I need to do". I saw how I moved the world, I saw how I touched people. I'm like, "damn, I could do this just by what I'm saying to niggas and I'm starting to make money" That was the last time I ever worked. I quit my job back then and that was it for me. I just took it seriously and became Arsonal.
One of my favorite performances from you was you versus Conceited. Because I at that time, Conceited was seen as like, "nah nobody can see him. And when I saw that, I was like Ars is doing something different right now. 
I brought a whole new feeling to battle rap. When I came out — battle rap was cool. I used to watch you know the Smack DVD's, but it wasn't popping. I really truly feel like after I came around,  I'm not gonna say single-handedly but I definitely am one of the crutches that made battle rap pop again and interesting. When I came around and battled Hollyhood, Tech 9, and that's when Fight Klub came back. Right at that point, things started getting bigger and bigger and bigger.
That's a fair point. Let's talk about your partnership with York Records. How how did that come about what do you think y'all mission statement is. What are you out to prove with this?
Well you know, we independent. We handle it how we are supposed to handle it, you know, say we hold the door down We're gonna bring the artists in, and we're gonna flood the streets like we supposed to.  That's it really. Me and Dizz, that's my bro, we knew each other before the whole partnership. I trust him with my career, obviously. We've built a family outside of this music shit even though we got a business relationship as well. It's a family. Everything York said they were gonna do for me, has happened thus far. We taking it a day at a time. Working hard.
That's a beautiful thing. To see Wyclef, one of the legends out there that's still around, still active, and still got his finger on the pulse of the culture. I see you working with him, I see him in the video. It seems like a very organic relationship. Did you always have a line on him? How did y'all connect? 
Me and Clef came through York, through my manager, Dizz. That's really his family. Clef told me a crazy story. As long as he knew Dizz, since kids, I think he said like, seven years old or something like that. They knew each other for a real, real long time. But he's like, Dizz never brought him, anybody, to do no music with them. Like no artists. Dizz has been managing artists for years. But he said he never brought any artists to him till he got with me. And that right there meant a lot to me when Clef told me that in the studio out his own mouth. So I already know how serious and how much my management and my label actually, believe in me now.
That's dope. So you're somebody who doesn't hold back no matter what, like, as far as just creating, you know, your craft in general. So when you have moments like that, when you already believe in your message and your gifts, and then the people around you, they see potential and they believe in you to the point, you know, like, does that unlock another level of your creativity? 
It's a weight off your shoulders when you know people believe in you like I'm not in this by myself because, at the end of the day, nobody will make it in the music industry by themselves. I don't care how talented you are or how much bread you have. It just feels really good to know my team genuinely gonna rock with me. So if things got to get handled, I know I can count on my team because they want to win just as much as I want to win and they want to see me win.
I think that's the most important thing. What you just touched on is, they want to see you win. Has there ever been a time in your career where the battle rap, music or anything where you felt like people didn't want to see you win? It can be fellow battle rappers, have you ever felt that vibe?
I mean, I feel like that every day. I feel like people don't want to see me win in life. That's regular It is what it is when that is on that end. But that shit doesn't stop me. I'm gonna win regardless.
Gotcha. Gotcha. And I mean, is that a mentality — and I get the vibe from the Product Of My Environment video that like, Newark is just like that, like Newark is just one of those places. I'm born and raised in Detroit, so I can understand I can relate. 
I've been out there a few times. What's that, Highland Park. Traffic is sh*t, I ain't been back since.
I don't blame you. So we started just talking about Product Of My Environment. And one of the best videos I've seen in a long time. It's just a clean visual. The director that you got, you know, a local guy from Jersey, and all that. So, let's just talk about how that whole thing came about.
Rock Davis is one of the best in the world doing the video shit.
The video was amazing. Hearing the song is one thing but watching the video is another thing. I feel like you have to consume it together to really get the whole scope of it. How involved were you in the process? I know a lot of times artists would just show up and do what they were told to do in the video or whatever. But how involved were you in the process?
Let me say let me just keep it all the way 103 with you. This video was so inevitable of how it came together. My brother, we shot this video last December, right around my birthday. Before the coronavirus, before for George Floyd. But, this is the world we live in police brutality, they getting away with injustice shit they do. So you know, I'm just talking about it you know, I'm saying like that was how when I got in the studio back in November to record the track. This is what was on my mind. So we shot the video in December of last of 2019.  But for some reason, we didn't release it and then the George Floyd situation happened ( May 25th, 2020) and then all the killings, so it just made sense. And then we had you know the footage from all of the riots and everything going on all over the world from the protests and things like that. So it all came together and when we dropped it was an unfortunate event. You know, I'm not saying we are happy with what was going on and that's why  I'm saying the timing of us releasing that was just perfect timing. To actually get this message out to the world. To me, I feel like that was destiny. It was like destiny that we did that record that we held it how we did. It just came together. I think perfectly.
I think you are 100% right. Now if you had not told me that you recorded the song in November, shot the video in December, I would have thought the video just dropped yesterday.
If you pay attention, I got a Gucci jacket on Everybodys bundled up with gloves on, scarves. You got to know it was cold. So you know it was definitely before corona and before George Floyd and all that.
 You are 100%. Like you said it was destiny You know not to do it to capitalize. I want to commend you just on the message period because a lot of people think that when you know, they confuse battle rap in reality because it's like I'm balanced this person in front of me. Of course, I'm gonna say some shit does whatever you know I'm trying to win a battle but like we know what's important.
That even bleeds over into the Underrated project.  Where were you headspace wise just you know, his headspace while he was recording this because my favorite joint is Something About Me. when the joiner that's my favorite one. When I got to it, it was the first one I was like, now let me bring this back. Like the tape was good money. 
That's the next visual dropping I'm actually supposed to be dropping.
Makes perfect sense to me. So just headspace wise where were you? I mean, you could touch on the song first if you want and then just the tape period. Where were you? What was your writing and recording process through this tape?
Just you know, I know I haven't put out a tape in a while since Finally. I just was like I need to push something out and everything was from the heart You know, I'm saying like my cousin or my cousin which was my manager, he dealt with an unfortunate situation so where he's to got do some prison time. He'll be gone for a while so a lot of that has been on my mind. As far as my family going on and you know more responsibilities I'm gonna have to take on as far as you know him being away. I mean just a lot of shit I was going through. I lost a lot of friends last year. And just been going through a lot of shit man. So everything on it you see from the first song which is the Underrated intro, I'm just talking about you know, day to day sh*t. It was just all of me at this point. Like I wanted to keep it short. That's why I made it 10 records with only about 30 minutes you know? But I kept every song around like the two-minute mark. I ain't want to really go too crazy. But everything is from the heart. I'm thinking about actually releasing a deluxe in a little bit to Underrated. Yeah man, my writing process was how I felt at the time. Everything was really heartfelt.
It sounds like it. You can definitely tell there's something you sat down it was like I let me just draw on this with that and just make it make sense. What do you think is the next step for Arsonal? You see everything is out here is like all types of avenues just monetizing your brand and everything. I think you probably might have been one of the first people that was like early on that just pushing your name I think that kind of help with expanding your brand. What do you think is the next step for you know, 2020, 2021 beyond for Arsonal. What are you cooking up? What do you think is next for you?
Well, once the world opens back up fully, we are trying to hit the road running. Trying to touch all 50 states, increase the fanbase, go back overseas, trying to get all these shows done. We are trying to branch off in television you know we got some big things in the works. I'm just I'm really trying to focus on the music and just you know lead me as a musician and entrepreneur. Invest in a few properties and a few businesses.
Before I let you go, is there any battle that's left on your bucket list, where you have to get this before it's all said and done. 
Maybe if Eminem ever jumps back in the ring. (laughs) I don't give a fuck about these niggas. I ain't chasing these niggas. I'm good. A dream battle would be Eminem.
By saying that, do you think the allure of battling some of these dudes went away when you actually got around them and saw battle rap culture for what it was and the people for who they were? Did the aura of the battle go away and you were like "I'm straight"? 
I battled everybody. Nobody left for me to battle. The people I'm battling now is either rematches or — it ain't too many people I haven't battle that would make sense. That's what I want to say. I don't mean to say it ain't nobody for me to battle because it's a lot of battlers. It has to make sense, at least.
Check out Arsonal's Product Of My Environment video.