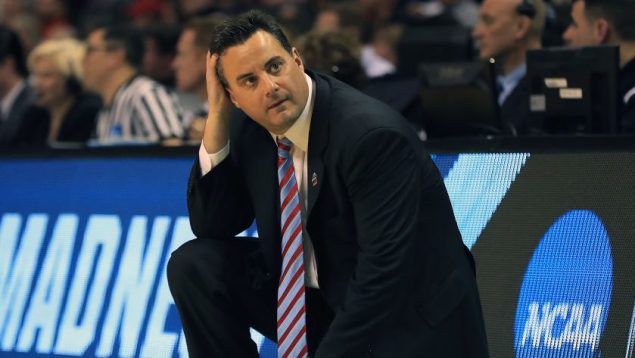 Arizona has decided to make a move, fires Sean Miller. After 12 seasons and more than enough issues, it was time for the two to part. Miller was seen as the guy to bring Arizona back to its former 90s glory, but it never came to fruition. The success he had at Xavier was never pushed to new levels once he got to Arizona.
Jeff Goodman had the news first.
BREAKING: Arizona has parted ways with Sean Miller, sources told @Stadium. Spent 12 years at UA, had one year left on contract.

Miller was charged with head coach responsibility for failure to promote atmosphere of compliance. Administration stuck by Miller for 4 years.

— Jeff Goodman (@GoodmanHoops) April 7, 2021
During Miller's tenure as coach, there were more than just issues with success. Despite never making a Final Four while at Arizona, Miller brought on recruiting violations that resulted in being hit with a failure to promote an atmosphere of compliance charge from the NCAA. That is one of the biggest charges the NCAA can put on a coach. This season Arizona sat out the postseason with a self-imposed ban, hoping to limit the consequences coming later.
With one more year on his contract, Miller is owed about $1.5 million on his contract. The allegations from the NCAA came from violations around the recruitment of DeAndre Ayton and other players. There were rumors of a wiretap recording of Miller, but those turned out to be false. This happened during the FBI's investigation in college basketball.
Sean Miller had success at the conference level, winning the regular-season title five times and the regular season and conference tournament titles in three seasons. Despite four 30+ win seasons, Miller never got the Wildcats past the Elite Eight. They reached the Elite Eight three times and the Sweet 16 another two times.
Usually, coaches can get in trouble if they are winning at a high level. Teams are more willing to stick by their guy, which Arizona did for four years, but there has to be something more from the coach. Miller failed to bring winning postseason basketball back to Arizona and brought violations along with that. So Arizona will look to move on to a new era.