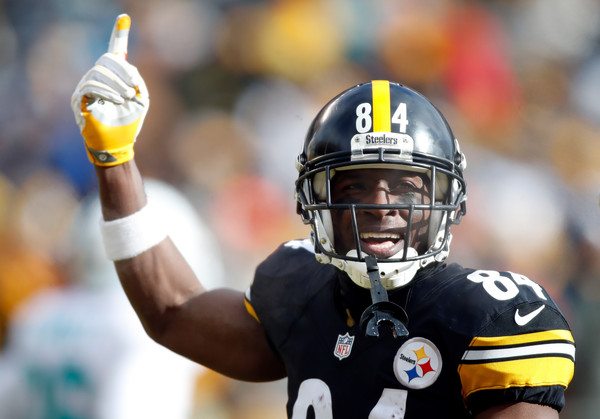 The situation surrounding Antonio Brown and the Pittsburgh Steelers has reached its logical endpoint. Or at least a logical checkpoint. The five-time All-Pro wide receiver has officially requested a trade from the Steelers.
Though the spat between player and team may go back further than what is publicly known, things came to a head this past season when Brown and quarterback Ben Roethlisberger had a heated exchange during a late-season practice. That led to Brown no-showing at practices following the incident and the team sitting him for their final regular season game.
The request was first reported by ESPN's Adam Schefter:
Antonio Brown has not been traded nor has he been released. But Brown wants a trade and he officially has requested that from the Steelers, per source.

— Adam Schefter (@AdamSchefter) February 12, 2019
That was followed up by Brown himself tweeting a not-so-subtle message to the Pittsburgh Steelers organization:
Thank you SteelerNation for a big 9 years…time to move on and forward……….?? #NewDemands pic.twitter.com/fbIoFNdqK4

— Antonio Brown (@AB84) February 12, 2019
If Brown's time in Pittsburgh is indeed done, it's hard to argue the team didn't get a ridiculous amount of return on investment, albeit the messy ending. Pittsburgh took Antonio Brown with the 195th overall pick in the sixth round during the 2010 NFL Draft.
Since being drafted, Brown has accumulated 837 catches on 1,275 targets for 11,207 yards and 74 touchdowns.
However, salary cap implications are sure to complicate things. Brown signed a four-year, $68 million contract extension following the 2017 season, leaving three years left on his deal. On the Steelers' end, trading him could come down to timing.
Antonio Brown trade reminders:
* He's due a $2.5M roster bonus on March 17th
* If traded before 3/17, the Steelers would absorb a dead cap hit of $21.12M, $23.62M if after 3/17
* Brown is due $12.625M in 2019, $11.3M in 2020, $12.5M in 2021
* Brown turns 31 on July 10

— Field Yates (@FieldYates) February 12, 2019