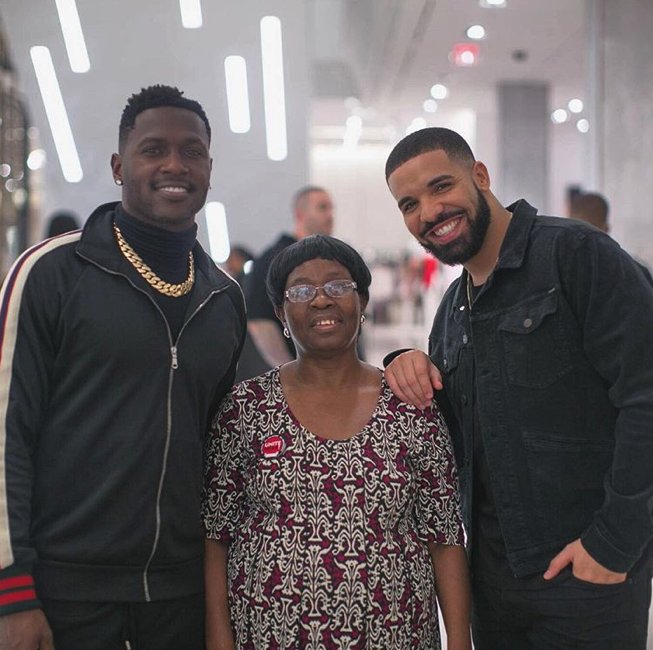 A lot of times when a pro athlete and rapper share a headline, it might not be all that positive a story. Or at least one with some inherent drama (see: Wilson, Russell, and Future). But this is not one of those headlines. In fact, this headline represents the best of humanity. All-Pro wide receiver Antonio Brown, of the Pittsburgh Steelers, and award-winning artist Drake have partnered to provide $10,000 to a Miami resident – and mother – who desperately needed it.
The mother in question is Odelie Paret, who works as a housekeeper at Miami's famous Fontainebleau. The gift included a treatment at the hotel and resort's spa, dinner, and a shopping spree at Saks Fifth Avenue.
It was all documented in Drake's new music video for the song "God's Plan," which was recently released. Antonio Brown can be seen in the video as well. Brown is famous for – among other things – his end zone dancing in the NFL but puts those skills to a (slightly) different use in the video.
Drake, when asked about the video, said, "The budget for this video was $996,631.90. We gave it all away. Don't tell the label."
Antonio Brown (@AB84) killin' it in the God's Plan music video pic.twitter.com/0xxhZCKL3D

— Jordan Heck (@JordanHeckFF) February 16, 2018
As for the idea behind the video, Drake explained that he was inspired by the story of Paret, and what she does to provide for her family. She is a mother of five and wakes up daily 4:30 a.m. Due to a poorly structured public transportation system, Paret must wake up that early because it takes her four hours to get to her place of employment.
Antonio Brown and Drake have been friends for a while now, and Brown didn't have to think twice about getting involved with the video. Brown was born in Miami, so for him, the gesture was a great way to give back to his hometown.