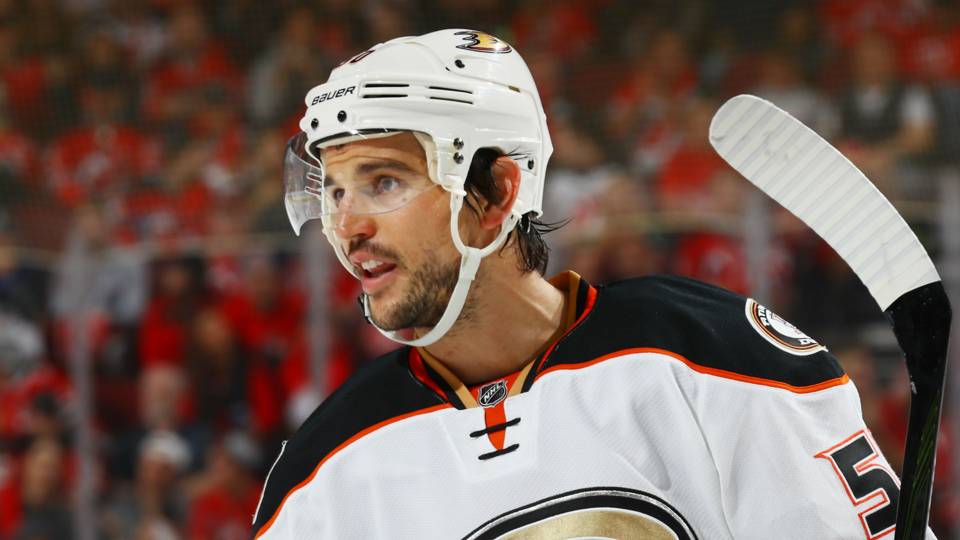 Anaheim Ducks forward Antoine Vermette has been given a 10 game suspension for slashing a referee in Tuesday nights 1-0 victory over the Minnesota Wild. Bob Mckenzie of TSN reported that Vermette received a category two suspension for the slash.
The tweet from Mckenzie:
NHL discipline docket: DET Gustav Nyquist hearing 2 pm. ANA Antoine Vermette gets Category II (10 game suspension) for abuse of official.

— Bob McKenzie (@TSNBobMcKenzie) February 15, 2017
The suspension falls under catagorey two of rule 40 in the NHL Rule Book, which states:
Any player who deliberately applies physical force to an official in any manner (excluding actions as set out in Category I), which physical force is applied without intent to injure, or who spits on an official, shall be automatically suspended for not less than ten (10) games.
On a faceoff against Wild center Mikko Koivu, the puck seemed to be dropped unfairly, causing the Wild to gain possession of the puck. Vermette clearly did not like the drop of the puck, showing his frustration by slashing the official in the leg. A penelty was called immediatly, and Vermette was given a game misconduct.
Ducks head coach randy Carlyle saw the play differently than most, saying he barely touched the official and was just looking for a whistle. The comments from Carlyle courtesy of USA Today:
"It wasn't really a vicious or any type of malice thing. He wasn't trying to hurt anybody. It was more of a tap to blow the whistle type thing. He touched the official. So what are you going to do?"
We have seen players be suspended in the past for "abuse of officials". This season, Arizona Coyotes defenseman Anthony DeAngleo was suspended 3 games for arguing with an offical. Last season, Calgary Flames defneseman Dennis Wideman was suspended 20 games after hitting a linesman into the boards, a more similar play to this one. While no official should ever be tarfeted, you have to wonder if the growing number of incidents is a sign that players are not happy with the way games are being called