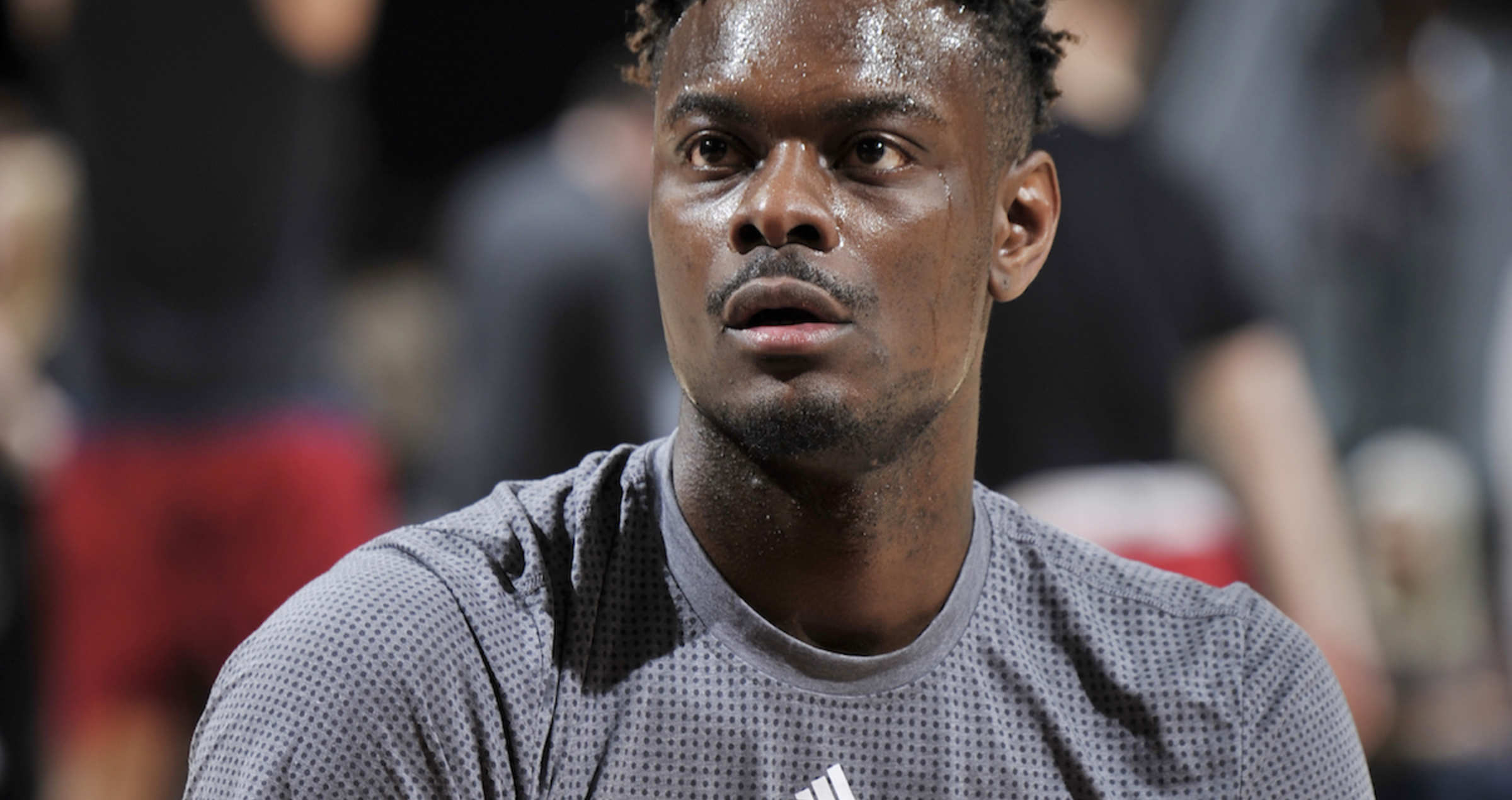 Update: Georgia Police have commented after Anthony Morrow's allegations that he was racially profiled. Following via Rick Bonnell of the Charlotte Observer:
An email from the Georgia State Patrol's public information office says Morrow was initially pulled over for a window-tint violation, and he received a warning. In the same email, the Georgia State Patrol said it had not received a complaint from Morrow as of about 3 p.m. Monday.

Morrow said in a text message to the Observer Monday that he still intends to file a complaint. He said any question about his window tinting came after he was asked if there were drugs, money or guns in his car.

"They didn't give me a warning, they didn't give me a ticket," Morrow said. "They are lying."
Original Story Follows:
Free Agent Shooting Guard Anthony Morrow claims to have been racially profiled in Commerce, Georgia. On Saturday, he took to Instagram to detail his experience:
Here's the full transcription:
"What's going on everybody? Ant Morrow checking in, man, just wanted to give y'all a quick story about something that happened to me a couple of days ago in Commerce, Georgia, on my way from Charlotte down to Atlanta to pick my daughter up to bring her back for the weekend. Officer Fuller and Officer Fleming down there in Commerce, Georgia.
Long story short, I saw a guy getting pulled over, like a Hispanic guy. Two cops behind him, he's outside the car, so I'm thinking: 'man, this is bad, hope he [doesn't] go to jail.' I'm driving, going the speed limit, 20 seconds later, cop car behind me, I pull over. Cop comes up to my passenger-side window, asks for my license, I give him my license. Asks for my registration, I give him my registration.

Next question out of his mouth is: 'Are there any drugs or guns or large amounts of cash in this car?' I'm like: 'No, I don't do drugs, I don't smoke, I don't do [any] of that' He nods at my car, he says: 'what's that odor?' I say: 'That's called a vape, it's a vaporizer. You can buy it any store, it's legal. It's not even tobacco.' OK, cool. He takes my registration and my license. He leaves, comes back. 'Are you sure there's nothing in this car that's going to get you in trouble or get you, you know, in jail?' Basically.

I said: 'There's nothing in my car.' He said: 'Do you mind if I search the car?' I said: 'Yeah, I mind if you search my car. I said: 'I don't feel comfortable with that and I know my right.' So he leaves – that was officer Fuller, he left. Officer Fleming came to my window the next time. He said: 'Why don't you step out of the car?' I said: 'For what?' He said: 'Because I asked you to.' I step out of the car, he frisks me, didn't say [anything] about it. Keep in mind, Officer Fuller never asked me about anything about: 'Do you know why I pulled you over?' None of that. It was just 'license, registration, [are] there drugs, or guns or cash in the car?' So I was already on high alert, I ain't want to get out of my car, you know what I'm saying? So I get out of my car, I get frisked. He didn't say he was going to frisk me.

He says: 'Usually when people do not consent, our antennas go up, we get suspicious.' I said: 'Well, I don't know why. This is my car, I know my right, I don't want y'all in my car.' So, he said: 'Can I bring the canine out?' I said: 'You can bring the canine out.' He brought the canine out one time, it didn't do [anything], it didn't find anything.' He put the dog back in the car. Then he said: 'Can I get in your car and let your windows halfway up?' He asked me to do it first, and then he did it on his own. Basically, he wanted to get in my car unlawfully. Getting in my car already, he's not supposed to do that. He jumped in my car, let the windows halfway up, came back to me, and said: 'I've got to get the canine again so he can search it with your windows halfway up. So in my mind, I'm like: 'If he didn't find [anything] when the windows were all the way down, what makes you think he's going to find something with the windows halfway up?'

So he goes and gets the dog, same thing, he comes back. I already knew in my mind, he's just trying to find a reason to force probable cause to get in my car. I've got two uncles who are sheriffs, I'm not with that 'eff the police' stuff. I'm with eff the bad police, unlawful police, racial profiling, that's what I'm against, you know what I'm saying? So, dog goes around again, he put the dog back in the car. This is the second time the canine had checked my car. So he says: 'I think that's enough evidence for me to check your car, he gave me a little bit of extra attention on your passenger-side window.'

I said: 'All right, go ahead.' They search the car, don't find [anything] after 10-12 minutes. Officer Fuller checks my car, Officer Fleming is talking to me. Asking me how much money I make, all this different stuff. I told him: 'I make enough money to keep my family fed, you know what I'm saying? I don't have to tell you that.' Officer Fuller brings my book bag back to Officer Fleming, in Commerce, Georgia, remember that. Let's look these cops up. So, he checks my bag, finds nothing, obviously. He's pulling out my Louis Vuitton toiletry bag, 'Ooh that's a nice bag,' 'What kind of ring you [have] on?' And I'm like, this is just stuff that I wear, you know what I'm saying? I've got a shirt like this on *gestures to white tank top* and some basketball shorts and some flip-flops. And they're questioning me, doing all this extra stuff. Look, I'm letting them do their job. I've got two uncles that that are sheriffs. At the end of the day, I'm making it to see my daughter in Atlanta and I'm making it back home to see my sons in Charlotte. So I'm not doing [anything] that's going to give them a reason to do anything to me. At this point, I'm like: I pray to God they don't plant [anything] in my car. I don't know what could happen right now, that's how my mind's thinking. My trunk is open, my hood is open, they're searching the whole car. Then Officer Fleming tells me Officer Fulling found 50 pounds of weed on a guy a week earlier. I was like: 'Well he's not going to find that sh** on me.'
Morrow explains why he shared his story:
I said that to say, like, we have to understand how to deal with the police because, at the end of the day, we're under their discretion. Whether it's running a stop light, whether it's speeding, whether it's whatever it is, you've got to understand, some cops are going to be different than other cops. I dealt with that personally, so, you know, I questioned them, like: 'What did my car do that was different than somebody else in a Toyota Corolla or something like that? You pulled me over out of everybody that was driving on the highway, you know what I'm saying? What made my car different? So you've got to understand that they actually do that, and you've got to be prepared when they come up to [those] passengers-side or drivers-side windows. It is what it is right now. We've got to continue to fight against that racial profiling in the police departments and understand what's going on with these policies. That's all I'm saying.
Per Morrow on Twitter, he has filed an official complaint:
I did that and more, champ. Did you repost my videos? If not then you just trolling. Do something to help my guy. https://t.co/ZGBMhiBXoB

— Anthony Morrow (@MrAnthonyMorrow) August 27, 2017
In a separate Instagram post, Morrow urges his followers to repost his posts and spread the word about the incident.