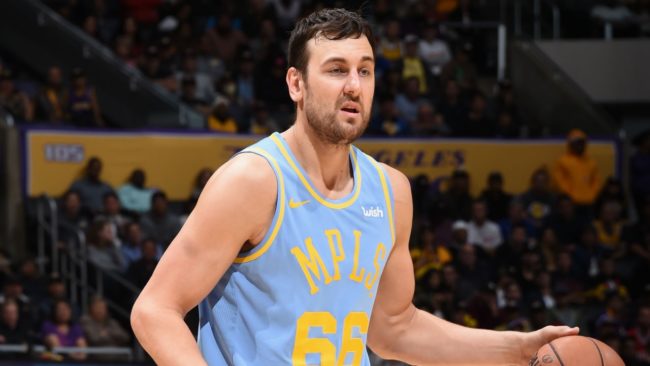 Free agent center Andrew Bogut has signed with the Sydney Kings in Australia, the team announced on Sunday.
The 33-year-old Bogut, an Australia native, will return to his home country after registering interest from multiple NBA teams this season. A press conference is scheduled for Monday.
BREAKING: Press Release with details-10am Monday EST Australia ?? pic.twitter.com/CazCR2BaD2

— Sydney Kings (@SydneyKings) April 22, 2018
Bogut, a 13-year NBA veteran, had the option to sign with contending teams last month. He decided to remain in free agency and stay with his wife in Australia, who was in high-risk pregnancy with their second child.
Bogut was expected to remain a free agent until July 1 when NBA unrestricted free agency officially opens, but decided to sign in his home country with the growing National Basketball League instead.
He signed with the Los Angeles Lakers in the fall and was waived by the team in January. Bogut has also played for the Bucks, Mavericks, Cavaliers and NBA Champion Golden State Warriors.
Bogut holds career-averages of 9.8 points, 8.7 rebounds and 1.6 blocks per game. He was drafted No. 1 overall by the Milwaukee Bucks in 2005.
Bogut has also represented Australia in the 2004 and 2008 Olympics, and likely would've played for the team in 2012 had he not been doing rehab on an ankle injury.