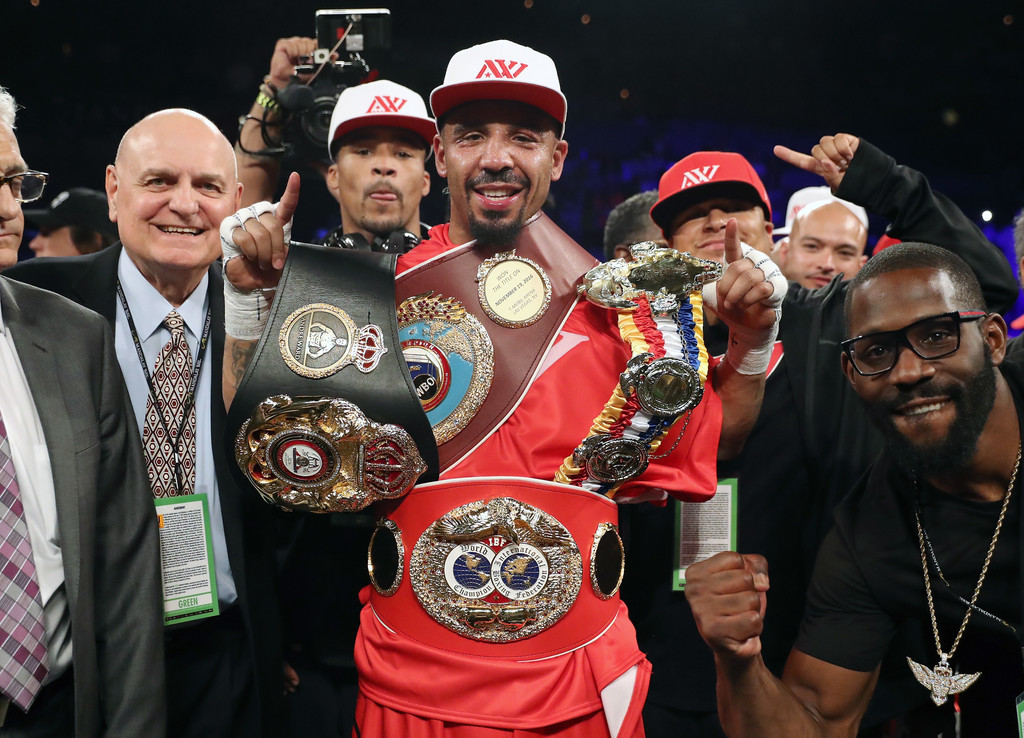 Almost 16 years after he won his first major amateur title, 13 years after his gold medal and professional boxing debut, 33-year-old Andre Ward (32-0, 16 KOs), out of Oakland, California, is stepping away from boxing. He will retire undefeated, with three titles to his name in the light heavyweight division and currently ranked as the best pound-for-pound boxer in the world.
Andre Ward made his professional boxing debut in the super middleweight division in December of 2004 following a successful run as an amateur fighter. He secured a Gold medal in the 2004 Olympics boxing at the light heavyweight division, the last American male to win Gold in boxing. He won the United States amateur middleweight and light heavyweight championships and also was victorious at the under 19 championships all before he threw his first punch has a pro.
In under four years, Ward rode an undefeated record towards at matchup against Jerson Ravelo for the vacant WBO-NABO Super Middleweight title. At 24-years-old Ward won his first title and never looked back. He went on to also win the NABF Super Middleweight title, WBA Super middleweight title and the World Boxing Classic. He then proceeded to secure his spot atop the light heavyweight division winning the undisputed Light heavyweight title and retained it twice after a pair of bouts against Sergey Kovalev.
23yrs Strong #Re2pect #Hardware #P4P @jumpman23 pic.twitter.com/9OyDT1UYsR

— Andre S.O.G. Ward (@andreward) September 19, 2017
In an era where boxing's biggest stars were Floyd Mayweather, Oscar De La Hoya, Manny Pacquiao, Wladimir Klitschko, Juan Manuel Marquez, Felix Trinidad, Miguel Cotto, Gennady 'GGG' Golovkin and Canelo Alvarez, it was Ward that was often the calming sense for the sport, both in and outside of the ring. He didn't have the flashiest name or reputation but he made it count where it matters most. In the ring.
Ward posted the following on his website.
MISSION ACCOMPLISHED

To the sport of boxing – I love you. You've been by my side since I was 10-years-old. You've taught me so much. You've humbled me. You've promoted me. I've sacrificed a lot for you, but you've given me more than I ever thought possible. You gave me a platform, made me a champion and helped me provide for my family. I am forever grateful to you. You and I will always be synonymous, connected at the hip. Thank you for all the wonderful people I've come in contact with because of you. I've made friends for life. As I walk away from the sport of boxing today, I leave at the top of your glorious mountain, which was always my vision and my dream. I did it. We did it.

From the bottom of my heart, thank you to everyone who has played a part in my journey. You know who you are. I could not have done this without you. I want to be clear – I am leaving because my body can no longer put up with the rigors of the sport and therefore my desire to fight is no longer there. If I cannot give my family, my team, and the fans everything that I have, then I should no longer be fighting. Above all, I give God the Glory, for allowing me to do what I've done, for as long as I have.
Ward went on to describe his decision a little more on a segment for 'First Take' on Thursday morning.
While some boxing stars faced downfalls personally or professionally, it was Ward who remained undefeated in the ring. It was Ward who remained out of the public eye often with his calm demeanor, welcoming personality and humble appreciation for his success. Ward wasn't stirring the pot to create unneccessary drama, Ward wasn't getting in trouble with the law, Ward wasn't making outlandish comments to the media. His biggest controversies were contract disuptes with promoters. Andre Ward spent over a decade remaining true to himself and it ends with him retiring at the top.
He also posted this video to close out this chapter of his life, courtesy of Uninterrupted and Jordan brand.
Two-Division World Champion
2004 Olympic Gold Medalist
32-0 Professional Boxing Record
One Amazing Career#ThankYouAndre pic.twitter.com/BwZWt9UTgD

— UNINTERRUPTED (@uninterrupted) September 21, 2017