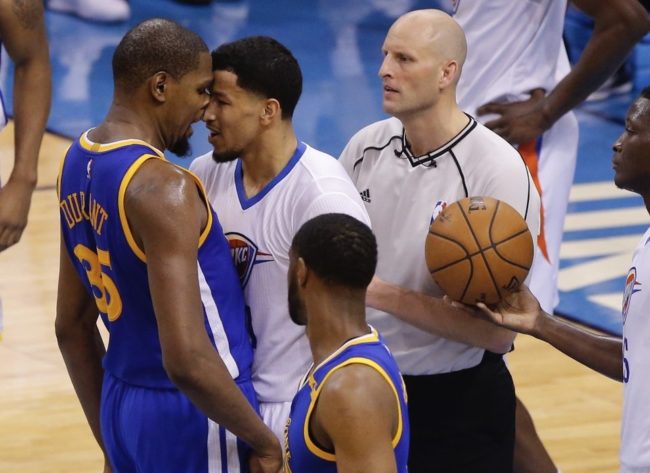 Oklahoma City Thunder swingman Andre Roberson was amongst the latest to say something pertaining Kevin Durant's Twitter comments, bashing his old head coach Billy Donovan. Roberson did not mince words when asked about his former teammate's Twitter accident, and offered insight on what he thought of the whole situation. Per The Oklahoman's Erick Horne:
It doesn't concern us now. He's moved on, we've moved on. We're going to try to continue to get better and grow as a team for this upcoming year, and put together a great stretch for a championship run. We'll just leave that to the side.
Roberson remains confident for this upcoming year despite Durant's remarks downplaying everyone on the Thunder roster not named Russell Westbrook. Durant has made controversial comments about his old team on Twitter after forgetting to switch from his official page to his backup ghost account.
KD has secret accounts that he uses to defend himself and forgot to switch to them when he was replying to this guy I'm actually speechless pic.twitter.com/9245gnpa3c

— MVPGDPOY (@harrisonmc15) September 18, 2017
Roberson was also able to comment on whether or not he found his former teammate's remarks to be 'annoying', especially considering the time that's passed since Durant's controversial decision on July 4th, 2016.
"It's kind of annoying," said Roberson. "But, I mean, it's only gonna keep being relevant the more we keep talking about it, so I just don't like to touch on it."
Frustration seems to be the theme of Roberson's answers about Durant's ghost account comments. It's been over a year since Durant's decision to leave the Thunder, but talks surrounding his former team and situation continue to circulate throughout the social media masses, which is what ultimately led Durant to respond to a Twitter user concerning his old crew.
A signing the one of Durant's magnitude during last year's offseason was incredibly impactful in terms of a player like Kevin Durant, and the historic record-setting team involved in acquiring him with Golden State. All Durant's former teammates can do at this point – specifically Roberson – is to forget about Durant's free agency signing last offseason, and just move on.
"I just leave it alone, and it is what it is. Can't control it. We control what we do over here in our organization."