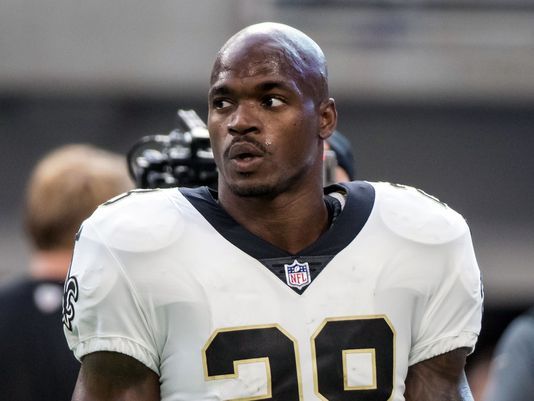 I'm not sure what was said to Adrian Peterson when he signed with the New Orleans Saints this offseason, but whatever the Saints offered was good enough for him. On Monday night, Peterson faced his former team, the Minnesota Vikings, for the first time in his career. He didn't get many looks as he only ran the football six times for 18 yards.
Peterson only played in nine snaps out of the Saints 62 total offensive plays. Not only that, but starter Mark Ingram played in 26 snaps while rookie Alvin Kamara played in 31. In the fourth quarter, there appeared to be a heated exchange on the sideline between Saints head coach Sean Peyton and Adrian Peterson. Here is the video.
Here is the video.
Adrian Peterson is handling this well. pic.twitter.com/bn6KCwhnjp

— Will Brinson (@WillBrinson) September 12, 2017
When asked about the incident, Peterson said their interaction has been overblown.
"It was definitely overdramatized. Of course, with the heat of the game, me being back in Minnesota and things like that, just catching that look – that intense look on my face, like I had – I actually got some laughs out of some of the memes that were made."
Peterson continued to tell USA Today's Kevin Spain more about his playing time.
"I didn't sign up for nine snaps, though, but unfortunately that's the way the game played out. In my mind, personally, I knew it was gonna take some adjusting. You know, me and Mark Ingram played in the last preseason game, and Alvin Kamara didn't even play that game. So with all three of us being out there, I knew it would take a game or so to kind of get adjusted."
What exactly did Adrian Peterson think he was getting into with the Saints? They throw the football more than any team in the NFL and Adrian Peterson isn't exactly a great receiver by NFL standards.
Finding a way to manage the egos of Mark Ingram, Adrian Peterson, and Alvin Kamara is going to be difficult. Can the New Orleans Saints find a way to keep all of them happy? If they don't, we can expect more instances of the Minnesota Vikings game.