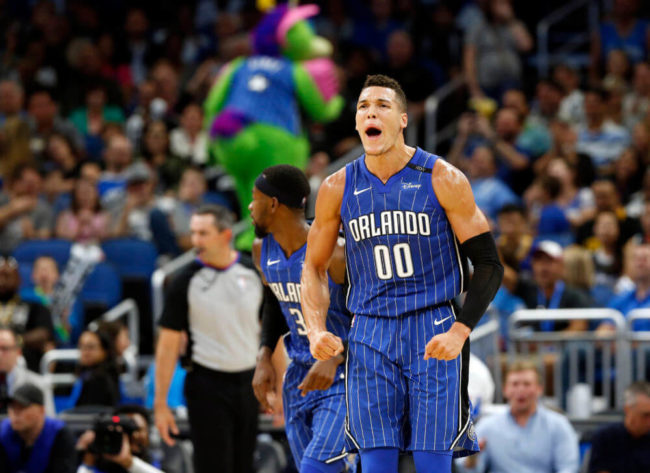 The Orlando Magic have made a deal on their last star. According to Shams, Aaron Gordon is being traded to the Denver Nuggets. This is the third major trade that the Magic have made during the 2021 NBA trade deadline. After dealing out Nikola Vucevic and Evan Fournier, this was inevitable.
Done deal: Aaron Gordon to the Denver Nuggets, sources said. https://t.co/Uku9X11sNV

— Shams Charania (@ShamsCharania) March 25, 2021
Everyone knows Gordon for his high-flying dunks and his legendary battle with Zach LaVine. He has been a piece that would always come up in trade speculation over the last few years. Now, that is a reality as the Magic move towards whatever the future may bring for them.
Gordon is going to be super valuable for the Denver Nuggets this season. The Nuggets sit at 5th in the Western Conference currently, 3.5 games behind the two-seed and just 2.0 games behind the 4th seed Lakers. The Jazz have a 6.5 game lead in first over the Nuggets.
This is a player that can be put together with their current stars. Jamal Murray and Nikola Jokic should be very happy with the news. Not all is a loss on the Orlando side. They will be acquiring Garry Harris in the deal along with young star RJ Hampton and a first-round pick. Which is a lot more than they got back for unrestricted free agent Fournier.
Gary Harris, RJ Hampton and a first-round pick to the Magic for Aaron Gordon, source tells ESPN. https://t.co/VWMUVCokeS

— Adrian Wojnarowski (@wojespn) March 25, 2021
The NBA continues to be one of the most exciting leagues in the world. The 2021 NBA trade deadline has been exciting so far and will continue as the day goes on.