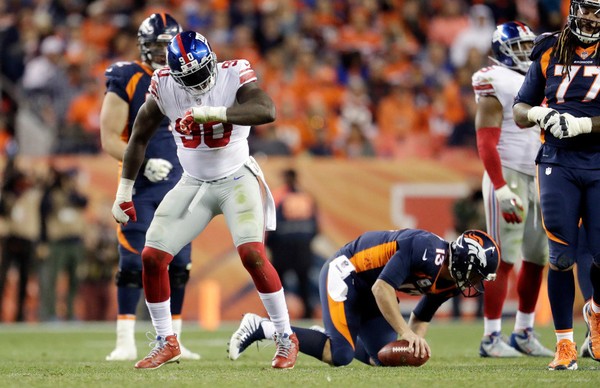 If you follow Vegas and the NFL, you knew there were four NFL regular season games that saw a 10+ point spread which is higher than usual. Instead, there were eight games decided by one possession or less.
We expected not to see many good games this weekend, and instead, we were gifted with plenty of them. This week, we dive into the significant week six injuries, offensive/defensive players of the week, best plays of the weekend, updated divisional standings, news around the league, interesting statistics to know from week six, and as promised, the "mini-mailbag". Are you ready? (for it…thanks, T Swift)
NFL Week Six Injuries
Again, the NFL lost some key players in week six – mainly Aaron Rodgers. Here is an extensive list of NFL injuries.
Week Six Awards
Offensive Player of the Week: Adrian Peterson – RB – Arizona Cardinals
How about that? He gets traded to a new team and he touches the football more than he did in New Orleans in four games.
New city, vintage All Day. pic.twitter.com/X54t2dVmS8

— SportsCenter (@SportsCenter) October 15, 2017
Let's see if this trend continues.
Defensive Player of the Week: Deion Jones – MLB – Atlanta Falcons
Deion Jones is only in his second year, but he is constantly around the football. He recorded 11 total tackles and one interception on Sunday (he recorded two but a penalty called it back). Here is a video of his interception.
the legend of deion jones continues to grow pic.twitter.com/WlV8SNWb0s

— ? dehaunta freeman ? (@FourVerts) October 15, 2017
Offensive Honorable Mentions:
Le'Veon Bell – RB – Pittsburgh Steelers (32 rushes for 179 yards and 1 touchdown)
Antonio Brown – WR – Pittsburgh Steelers (8 catches for 155 yards and 1 touchdown)
Jordan Howard – RB – Chicago Bears (36 rushes for 167 yards)
Defensive Honorable Mentions:
Matt Judon – LB – Baltimore Ravens (12 tackles, 2 sacks, 1 pass defense)
Harrison Smith – S – Minnesota Vikings (3 tackles, 1 interception, 2 pass defenses, 1.5 sacks)
Jason Pierre-Paul – DE – New York Giants (7 tackles, 1 forced fumble, 3 sacks)
Best Plays from the Weekend
Here are the best plays from week six.
It's truly amazing how many one-handed catches there are in today's game.
What a grab by @MarvinJonesJr . #SCtop10 pic.twitter.com/Cn7ZbFXd5A

— SportsCenter (@SportsCenter) October 15, 2017
Another one.
NASTY CATCH!!!

Laquon Treadwell….oh my ? pic.twitter.com/LrncD2xp6T

— Def Pen Sports (@DefPenSports) October 15, 2017
So this was nice pic.twitter.com/W3OWky2qpf

— Mike Renner (@PFF_Mike) October 15, 2017
Alvin Kamara is looking like the Saints go-to man.
Alvin Kamara jumping over another person, NBD. pic.twitter.com/SUM2Y7ltx8

— Def Pen Sports (@DefPenSports) October 15, 2017
You'll have to watch this video 2-3 times before you actually see what happened. Such a crazy play.
BOBBY RAINEY 96 YARD KICKOFF RETURN TOUCHDOWN! ??? pic.twitter.com/tBVkdcxZxh

— Def Pen Sports (@DefPenSports) October 15, 2017
I guess no one wanted to tackle Golden Tate before he waltzed into the end zone.
Matt Stafford with the quick throw…

Golden Tate does the rest ?

touchdown, Lions!pic.twitter.com/saCiM1L3wP

— Def Pen Sports (@DefPenSports) October 15, 2017
Antonio Brown would be the first player taken in "Backyard Football".
ANTONIO BROWN IS AMAZING.pic.twitter.com/Uh48n48ysP

— Def Pen Sports (@DefPenSports) October 15, 2017
Updated Divisional Standings
Here are the current NFL divisional standings.
AFC East
New England Patriots (4-2)
Buffalo Bills (3-2)
Miami Dolphins (3-2)
New York Jets (3-3)
AFC West
Kansas City Chiefs (5-1)
Denver Broncos (3-2)
Los Angeles Chargers (2-4)
Oakland Raiders (2-4)
AFC North
Pittsburgh Steelers (4-2)
Baltimore Ravens (3-3)
Cincinnati Bengals (2-3)
Cleveland Browns (0-6)
AFC South
Tennessee Titans (3-3)
Jacksonville Jaguars (3-3)
Houston Texans (3-3)
Indianapolis Colts (2-4)
NFC East
Philadelphia Eagles (5-1)
Washington Redskins (3-2)
Dallas Cowboys (2-3)
New York Giants (1-5)
NFC West
Los Angeles Rams (4-2)
Seattle Seahawks (3-2)
Arizona Cardinals (3-3)
San Francisco 49ers (0-6)
NFC North
Minnesota Vikings (4-2)
Green Bay Packers (4-2)
Detroit Lions (3-3)
Chicago Bears (2-4)
NFC South
Carolina Panthers (4-1)
New Orleans Saints (3-2)
Atlanta Falcons (3-2)
Tampa Bay Buccaneers (2-3)
News Around the NFL
Colin Kaepernick Files Lawsuit Against the NFL 
Colin Kaepernick filed a lawsuit against the NFL saying the owners are colluding against him. Kaepernick's legal team released an official statement on Friday.
Statement from Mark Geragos, counsel for Colin Kaepernick. pic.twitter.com/Z7rWpuwb2g

— ProFootballTalk (@ProFootballTalk) October 15, 2017
If the courts rule in his favor, it could abolish the current CBA (Collective Bargaining Agreement). Eliminating the current CBA would be huge as the NFLPA has been working to get NFL players more leverage in the new CBA.
Ezekiel Elliott Ruling
Last week, Ezekiel Elliott 'was suspended six games'. Because the Dallas Cowboys had a bye, Elliott and his legal team had an entire week to find a loophole in the legal system so he can play the next six games. And it appears they have found one.
Final rosters for Sunday have to be set by 4pm tmrw. NFLPA asking NY court to issue injunction before 4. Hearing starts 2pm. Gonna be tight

— Amy Dash (@AmyDashTV) October 17, 2017
If this appeal is upheld, Elliott will continue to play. Stay tuned for updates.
Martavis Bryant Denies Trade Request
After reports surfaced that Martavis Bryant is unhappy with the Steelers organization, Bryant has shut them all down. He even went to Twitter to exude his happiness.
Big win today and tomorrow right back to work tomorrow I am happy to be a steeler and can't wait to reach number 7 this year.

— Martavis Bryant (@ThaBestUNO) October 16, 2017
His rookie contract ends after this season, so where Bryant ends up will tell us how happy he really is with the Steelers.
Interesting Statistics From Around the League
Hold on to your coffee. Here are the most random statistics to know from week six in the NFL.
Tough year for NFL's most popular players. pic.twitter.com/eP4ryT5NZq

— Gil Brandt (@Gil_Brandt) October 15, 2017
Since 2013, Cardinals are 29-0 when they run on 43+ pct of their offensive plays and 15-25-1 record when their rush pct is less than 43.

— Gil Brandt (@Gil_Brandt) October 16, 2017
.@Mtrubisky10 is the first rookie starting QB to win in Baltimore since Jake Plummer in Wk 13, 1997 (snapping 13-game rookie losing streak)

— NFL Research (@NFLResearch) October 15, 2017
Since he entered the NFL in 2012, no player has more defensive touchdowns than @JjenkzLockdown pic.twitter.com/B6nbuDXaPH

— NFL Research (@NFLResearch) October 16, 2017
Wow NBC just showed the Falcons have already scored 23 points or fewer in more games this year than all of last year. Hits keep on coming.

— Allen Strk (@Allen_Strk) October 16, 2017
DeShaun Watson leads NFL in TD passes and is first rookie to throw at least three TD passes in three consecutive games.

— Adam Schefter (@AdamSchefter) October 16, 2017
Kareem Hunt is the only player in the Super Bowl era to begin his career with 6 straight games of 100+ scrimmage yards@Chiefs

— NFL Research (@NFLResearch) October 15, 2017
Derek Carr has thrown 2 INT today. In his career, the Raiders are 0-8 when Carr throws multiple INT

— NFL Research (@NFLResearch) October 15, 2017
The Patriots are the first team in NFL history to allow 6 straight individual 300-yard passing games

— NFL Research (@NFLResearch) October 15, 2017
Saints have 2 defensive TD in a game for the 1st time since Week 7, 2009 when Tracy Porter and Darren Sharper each had INT return TD at MIA

— NFL Research (@NFLResearch) October 15, 2017
JJ Watt out for the season, Odell Beckham, Jr. out for the season, Aaron Rodgers possibly out for the season. Brutal 7 days of injuries.

— Field Yates (@FieldYates) October 15, 2017
Tarik Cohen is the first @ChicagoBears running back to throw a TD pass since Adrian Peterson in 2007

— NFL Research (@NFLResearch) October 15, 2017
Texans WR Will Fuller has 7 catches this season, 5 of them have already gone for TDs.

— Field Yates (@FieldYates) October 15, 2017
The 7th Report: Mini-Mailbag
Below are the questions you had for me regarding week six.
Why can't the Falcons D get off the field on 3rd down?

— Kyle Cupples (@CuppleOthoughts) October 16, 2017
HH: Thank for the question, Kyle. It was a rough game to watch yesterday. You could physically feel the game slipping away from the Falcons. To put dirt in the wound, Jay Cutler has never led a team back that trailed by 17 or more points and he did it yesterday. It's like the defense goes into "prevent defense" in the second half. They don't press as much and they don't play much man to man, either. After a bye week fans expected more than what they got Sunday. There are many questions moving forward surrounding this Super Bowl caliber team.
"Even with a bye week did the Cowboys lose with the Zeke situation?" – E.J. Francis via Facebook
HH: Great question, E.J. I think there is a very good chance Ezekiel Elliott plays the entire season. Elliott's lawyer, Jeff Kessler, was reported saying the Texas judges made a procedural mistake sending the case back to New York and he appears to be right. Right now, according to the NFLPA, Zeke cannot practice today but has a court hearing at 2 PM. If there is no decision by 4 PM, he sits Sunday.
Thank you for your questions! If you want your questions answered in next week's "mini-mailbag", tweet them to @the7threport. See you at the same time for week seven of the NFL regular season.